How Travel Channel's Kellee Edwards Is Inspiring Black Girls to Love the Great Outdoors
Several minutes into her speech at the 2019 Los Angeles Travel and Adventure Show, Kellee Edwards, the host of Travel Channel's Mysterious Islands (and the first black woman to lead a show on the network), has encountered a small issue: she's the sole black woman scheduled to speak at the two-day conference, and her presentation about what it means to connect with communities while traveling isn't working the way it should — but much like every other aspect of her life, she's prepared to take control of the situation with authority, fearlessness, and a smile.
Born on Chicago's South Side, Edwards is used to succeeding in environments that would be a challenge for others. As a licensed pilot, certified scuba diver, and seasoned mountain climber, calling Edwards the future of adventure travel would be an understatement. Her journey is a significant accomplishment given the overwhelmingly white male industry she has been called to pursue, but her success — which has been nearly a decade in the making — is by no means an accident. Edwards's love for exploration began the first time she saw mountains on a Greyhound bus trip from Chicago to California. Her mother, Leonetta, had just gotten married and they were moving to San Bernardino, a city east of Los Angeles. An only child, Edwards was just 8 years old when her new stepfather, Donald, introduced her to the great outdoors, teaching her how to surf and taking her on camping trips.
"For me, coming from the South Side of Chicago and living in San Bernardino, those things were not normal in my African-American community," Edwards said of those early days, when she spent hours collecting rocks and falling in love with nature while also participating in sports like track and basketball. "I never let it make me feel like I was any less cool because I liked those things. Growing up as an only child, you have to play alone and entertain yourself. That translated into adulthood and I took it to a new level."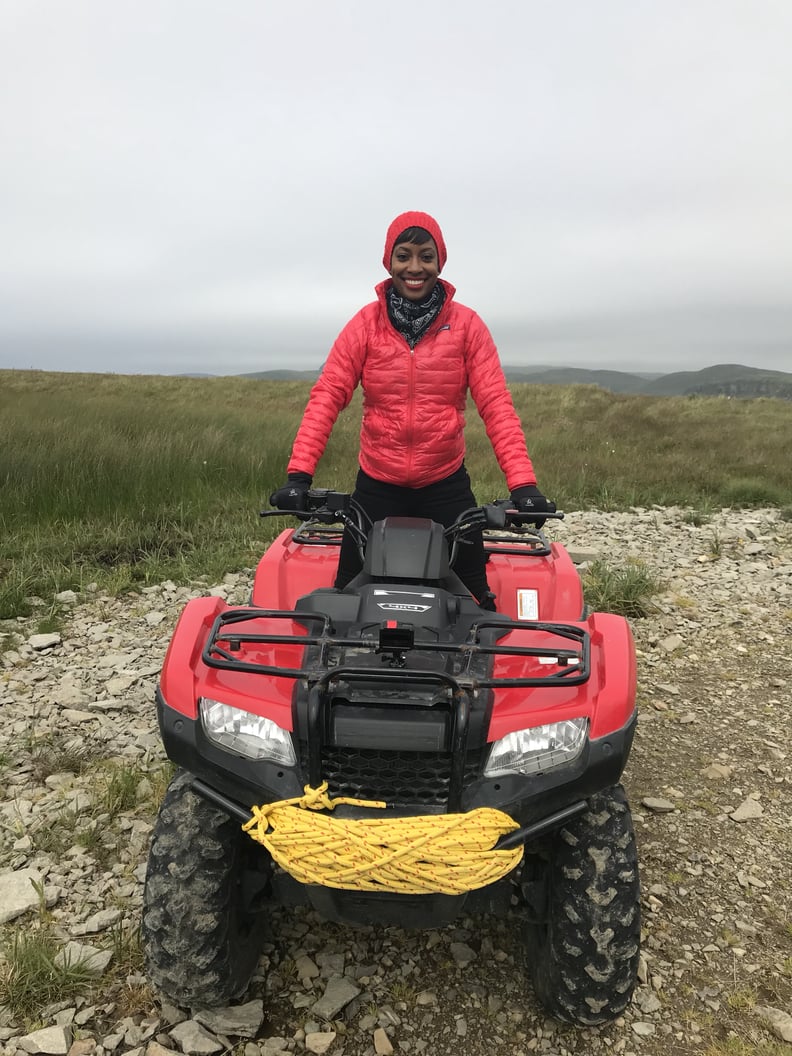 Once in college, Edwards majored in broadcast journalism, then went on to pursue a career in entertainment and sports journalism, but soon grew bored of quizzing celebrities about the content of their handbags. As she began to think seriously about what she loved and what she was passionate about, her attention turned to travel and the outdoors. Eager to start her career as a travel journalist, Edwards began booking trips to create travel videos, originally operating as a crew of one by taking her tripod with her on treks through Istanbul and Bangkok. It was 2010 when she began recording and editing the videos for her brand, Kellee Set Go, but she knew if she wanted to advance, Travel Channel had to be her next stop. A longtime fan of Travel Channel staples like Andrew Zimmern and Samantha Brown, it wasn't until Edwards saw a short-lived series starring an African-American man that her desire to pursue travel as a profession seemed attainable. "I remember seeing Dhani Jones, a black former NFL player, host a show called Dhani Tackles the Globe. It was amazing, and it showed that it was possible for us to get there."
Years before she got in front of the right people at the Travel Channel, Edwards understood the value of finding a travel niche. She noticed that diving was missing from the network's coverage of travel, and saw that as an opportunity to appeal to them.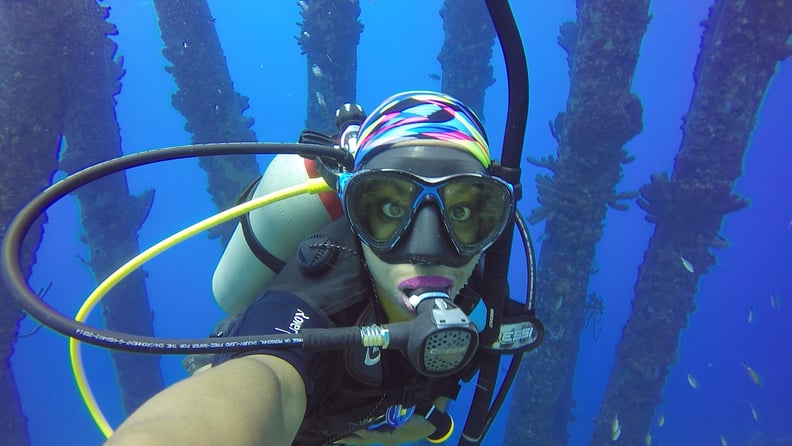 "The ocean makes up 80 percent of the Earth, so when you go somewhere, that should be explored," Edwards said of her initial interest in diving. She got her scuba diving certification, despite her dive master's wariness about her ability to finish the course and her own fears of open water. "I didn't have as much swimming experience as the other students and I didn't grow up with a pool in my backyard," Edwards said, though neither factor deterred her from earning her certification. Edwards remembers that the class began with around 20 students, and by the end, she was one of seven who remained. It wasn't long after obtaining her scuba diving certification that Edwards was called to her next big challenge: learning how to fly a plane.
"I was sitting at Burbank Airport and I saw this little plane, landing and taking off, and at the time, I didn't know it was doing what was called a 'touch-and-go,'" Edwards recalled. Realizing that aviation could be her next move, she began researching the steps needed to learn how to operate a small plane. "I thought that to be a pilot, you had to go to the military. I didn't know that you could sign up to take flight lessons."
Her search led her to a discovery flight that cost just $100, and though the first flight made her sick, the feeling of knowing that she could fly herself wherever she wanted to go became intoxicating. She signed up for aviation lessons and was the only female student in her class. The first plane she learned how to fly in was ill-equipped to accommodate her petite 5'3" fame, though a pillow and a phonebook provided her the lift she needed to fly.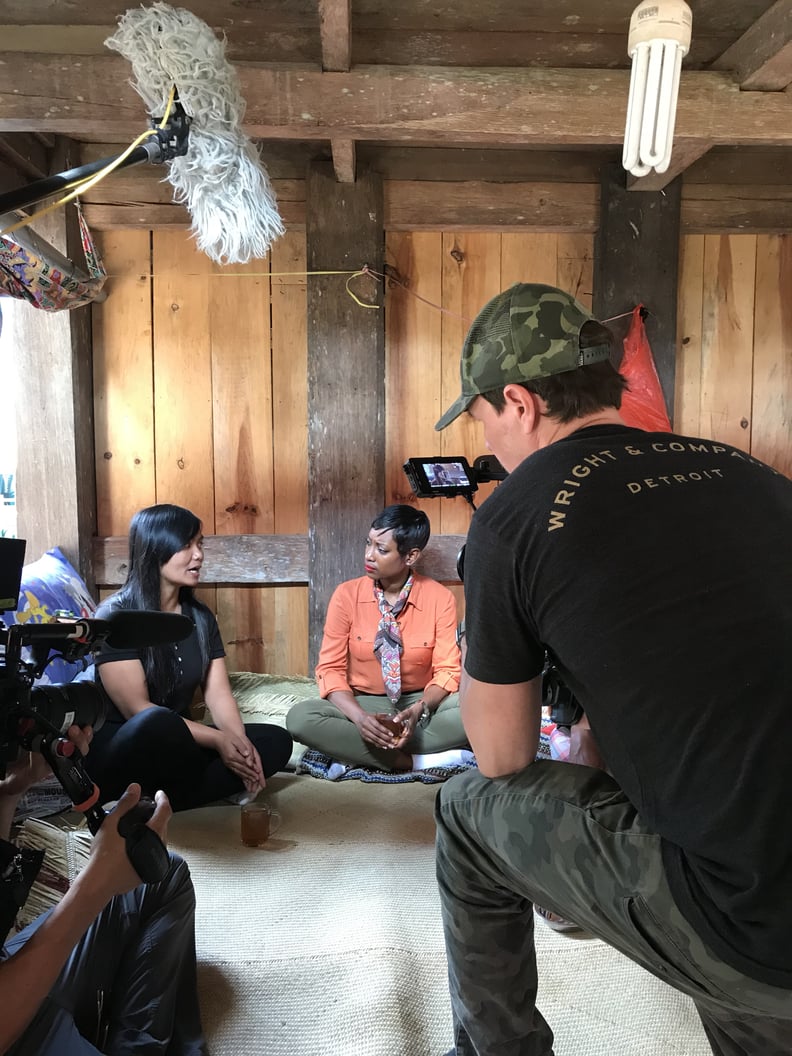 Certified to expertly navigate the air and dive in the ocean, conquering land was an obvious next step for Edwards. "As a woman and as a black person, in order to get into these spaces, we have to be overqualified," Edwards said, looking back on the steps she took to get the Travel Channel's attention. "It is a sad truth but it doesn't bother me personally because I know I'm capable." She soon summited Oregon's Mount Hood as the only woman in her group, but by this time, she had grown used to environments where no one looked liked her. "I'm always in all these spaces, and that look of curiosity is insane. Once you see a young black woman doing the things that I'm doing, you can't help but to be curious about it and want to know more," Edwards said.
"As a woman and as a black person, in order to get into these spaces, we have to be overqualified."
Curiosity worked in her favor when it came time to meet with the Travel Channel. Mysterious Islands premiered in 2017, and in the series, Edwards lets her curiosity lead the way as she journeys through the most remote destinations in the world, but she recognizes that she had to go beyond what many of her network counterparts have had to achieve to be considered for a show. "I felt like I had to go do the most extreme things in travel, and do all of them," Edwards said. "Just being a pilot wasn't going to be enough. Just being an outdoors woman wasn't going to be enough. I knew I had to be a quadruple threat. I had to do it all and I had to know how to be on camera. I know the Travel Channel respects my skills."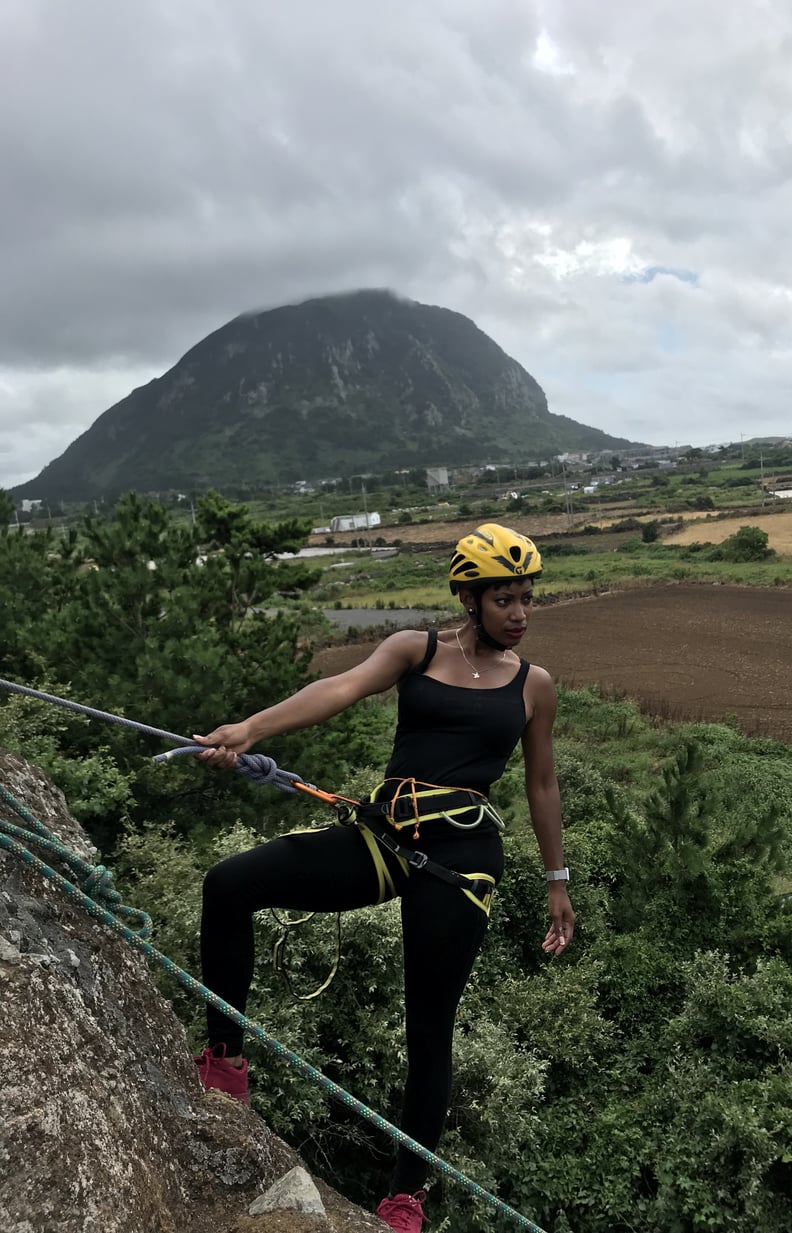 Edwards takes her position as an influential black woman in the travel and adventure space just as seriously as she took the scuba and aviation lessons that got her to where she is today. Her mission now is to use her platform to serve as what she describes as "an advocate of change" in an industry that has been slow to be inclusive of black travelers. African Americans spent $63 billion on travel in the US last year according to a study by Mandala Research, yet, as Edwards points out, "The travel industry continues to push a narrative, and they're just as guilty as these other companies because they paint a picture that only affluent white people travel, and that's not true. Everyone is finding a way to explore this world because it belongs to all of us."
One lesson that Edwards has learned in her still-early career is that nothing worth achieving should be left to chance. Travel bloggers with her influence can command top dollar for sponsorships, yet she has chosen to limit her partnerships to avoid diluting her brand. Even her pixie hair cut, now a signature look, was chosen so that she could easily maintain her hair during her adventures. Another lesson is that nothing great comes from playing it safe. "Being normal is boring," Edwards said, serving as a testament to what is possible when one embraces the interests that differentiate them from the masses. "By being mediocre, you're doing yourself a disservice. I'd rather push myself so hard, that even if I can't do it, I know that I tried." For a woman like Edwards, the scariest thing on earth is the idea of settling.