Everything We Know About Prince Louis's Namesake, Lord Louis Mountbatten
From the moment the British royal family welcomed another little prince, Prince Louis Arthur Charles, and even before we knew his name four days after his birth, we've been speculating about the men in Prince William and Duchess Kate's family that could inspire his moniker. Now that we know Louis is the pick, it's only right that we learn more about the man being honored with his name.
The biggest influence for Prince Louis's name is said to be Lord Louis Mountbatten, Prince Philip's uncle, and an important figure in the Queen's husband's life. What did this man do that impacted the royal family enough to get a prince named after him? Here's are the details.
Louis was a paternal figure for Philip as a child.
After Philip's mother reportedly had a nervous breakdown and moved into a sanatorium in Switzerland and his father was exiled from Greece after his family was forced to abdicate the throne in Greece in the early 1920s, Prince Philip was pretty much alone. He was only 10 years old, and with all of his sisters married and in Germany, he turned to the Mountbatten side of the family.
After his guardian Georgie Milford Haven died of bone marrow cancer, Louis aka Uncle Dickie as he was called by his family — the younger brother to Georgie — took over the duties of helping raise Philip. He made sure he was well-educated, and eventually Philip followed in his footsteps and became a part of the Royal Navy. When Philip denounced his title as Prince of Greece to marry Queen Elizabeth, he took the last name of Mountbatten to honor his uncle.
He is not only a relative to Prince Philip but also to Queen Elizabeth.
In addition to being Prince Philip's uncle, Louis was a great-grandson of Queen Victoria, which made him Queen Elizabeth II's distant cousin.
Louis played an important role in the military.
During his life, Louis was a dedicated British naval officer. He oversaw the defeat of the Japanese offensive as they set out toward India during World War II and was therefore known as a war hero. Louis was also the final Viceroy of India, and after arriving in New Delhi in 1947, he was successful in his mission to transition British-ruled India into an independent country, later becoming the first governor general of India.
He retired from the navy in 1965, only after becoming the first sea lord in 1954 — a title his father had held for more than 40 years, the BBC reports. After that, he went on to become Chief of the Defense staff in the British Armed Forces in 1959.
He was responsible for Prince Philip and Queen Elizabeth's first meeting
Without Louis, the British royal family as we know it wouldn't exist. According to The Evening Standard, in July 1939, King George VI visited the Dartmouth Royal Naval College after Louis arranged the visit. There, his nephew, Cadet Prince Philip of Greece, entertained the daughters of the King.
This was Philip and Elizabeth's first meeting! The couple might not have been great on paper — the British royal family wasn't his biggest fan because of his family's exile from Greece and his brother-in-law's reported links to Nazi Germany — but Louis always pushed for the couple to be together.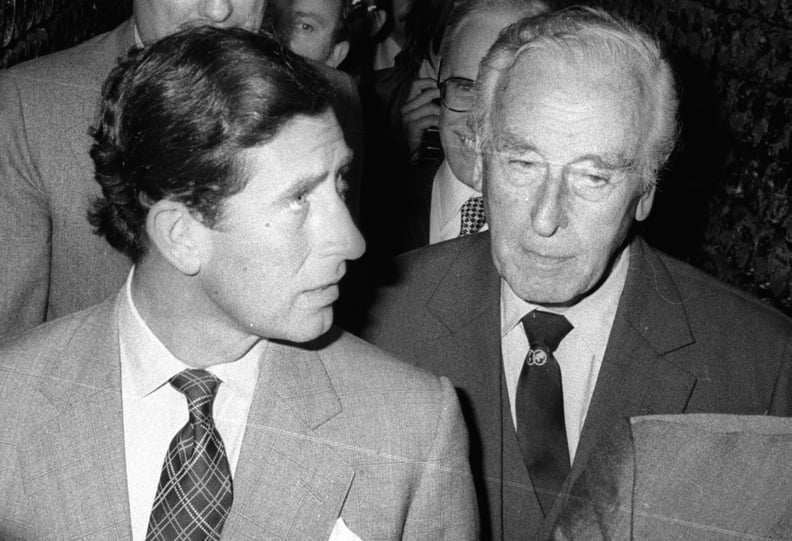 His mentorship didn't end with Prince Philip.
In addition to being one of the biggest influences in Prince Philip's life, Louis was a mentor to his son, Prince Charles. Before Louis's death, Charles constantly referred to him as an "honorary grandfather" and, according to The New York Times, said "I admire him almost more than anybody else I know." One of Prince William's middle names is also Louis, and it shouldn't be a surprise that his moniker was also inspired by the Lord.
His death left the entire royal family shaken.
In 1979, at the age of 79, Louis set out on his fishing boat from the coast of Ireland with members of his family. Just before 11:30 a.m. local time the boat he was in exploded, The Washington Post reported. The explosion was later attached to the Irish Republican Army, which claimed the bomb as theirs and therefore Louis and one of his grandson's deaths as an act of terrorism. The New York Times called the attack and death of Louis "the boldest and most dramatic act of the long terrorist campaign."