Who Is Noah Cyrus? Get to Know Miley's Little Sister
Noah Cyrus has already started to take over the music scene in a big way, but this certainly isn't her first encounter with the spotlight. As the daughter of Billy Ray and Tish Cyrus and younger sister of Miley and Trace Cyrus (of Metro Station), the 17-year-old has spent much of her childhood in the public eye, but she never thought she would follow in her family's footsteps. "For years I had been riding horses and staying away," Noah told Billboard. "Then two years ago, I started writing [songs] in sessions, and I fell in love with it." Since releasing her debut track, "Make Me (Cry)," last year, she has quickly stolen our hearts with her soulful voice, and we have a feeling it's only just beginning.
1. She's the Youngest Cyrus
Noah is the youngest of six — she has two sisters, Miley and Brandi, and three brothers, Trace, Braison, and Christopher (Billy Ray's son from his previous relationship with Kristin Luckey).
2. She Was on Hannah Montana
Before starting her music career, Noah made a few cameos on Miley's hit Disney Channel show. She played small roles in six episodes of the series and even worked as a background dancer for the 2009 film Hannah Montana: The Movie.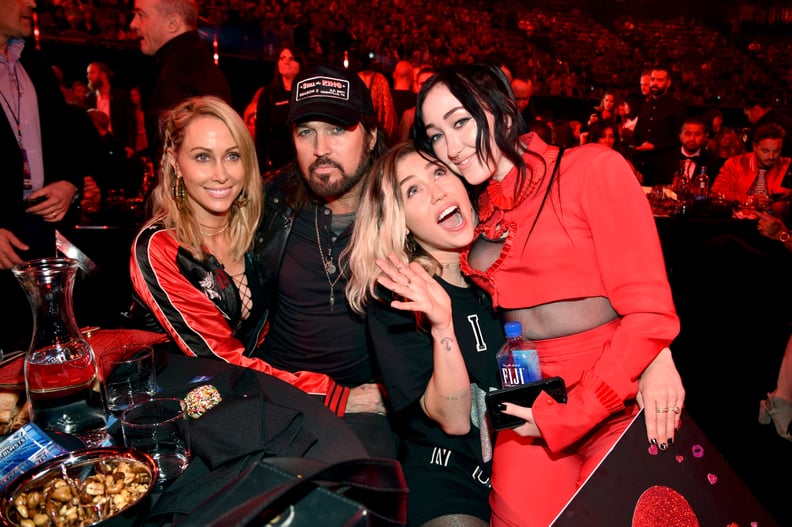 3. She Is an Animal Rights Activist
For her 13th birthday, Noah raised funds for the ban of using horse-drawn carriages in NYC. She later posed in a PETA ad that protested the use of animal dissection in high school lab classes.
4. She Was in a Movie With a Jonas Brother
Miley isn't the only Cyrus with ties to the Jonas Brothers. In 2008, Noah scored her first movie role in the English version of the anime feature film Ponyo alongside the youngest Jonas brother, Frankie.
5. Her Debut Album Is Coming Out This Year
Her first album, NC-17 (which is a play on her initials and age), will come out later this year. So far, she's already released two tracks, including "Make Me (Cry)" and her latest jam, "Stay Together."