4 Things to Know About Scooter Braun, the Man Who Bought the Rights to Taylor Swift's Music
By now, you've probably heard of Scooter Braun — the man Taylor Swift called out on Tumblr after he purchased her former label, Big Machine Records, for $300 million over the weekend. But you might be asking yourself: "Why does that name sound so familiar?" Well, given that he's Justin Bieber and Ariana Grande's manager, that's probably where you've heard of him before. Still, there are a few other things you should know. Keep reading to learn more about Scooter.
01
He's 38
Scooter was born on June 18, 1981 in NYC.
02
He's Happily Married
Scooter tied the knot with the founder and CEO of F*ck Cancer Yael Cohen in July 2014. They have three kids together, sons Jagger and Levi and daughter Hart.
03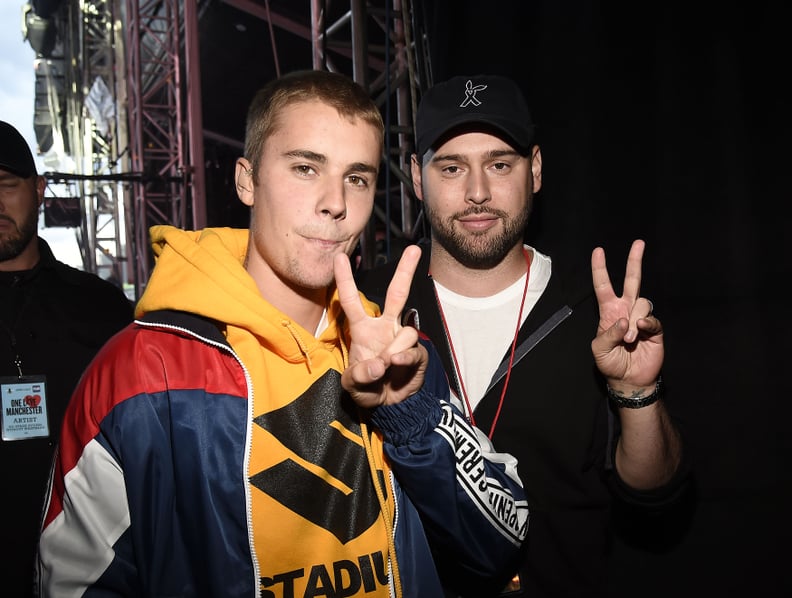 He's Justin Bieber's Manager
In addition to managing entertainment and media company SB Projects, Scooter also represents a handful of music artists, including Justin Bieber, Ariana Grande, Demi Lovato, Usher, Tori Kelly, and Carly Rae Jepsen, as well as model Karlie Kloss. SB Projects also branched out into film and television production, with it's first documentary, Never Say Never, in 2011. Most recently, Scooter acquired Taylor Swift's former music label, Big Machine Label Group LLC, for $300 million, which included the rights to Taylor's first six albums. And that's where the drama began . . .
04
He's Currently Feuding With Taylor Swift
Following Scooter's acquisition of Big Machine Records, Taylor published a Tumblr blog post on June 30, referring to the sale as her "worst case scenario" and said she had received "incessant, manipulative bullying" from him "for years."
"I walked away because I knew once I signed that contract, [Big Machine Records founder] Scott Borchetta would sell the label, thereby selling me and my future. I had to make the excruciating choice to leave behind my past. Music I wrote on my bedroom floor and videos I dreamed up and paid for from the money I earned playing in bars, then clubs, then arenas, then stadiums," she wrote. "I learned about Scooter Braun's purchase of my masters as it was announced to the world. All I could think about was the incessant, manipulative bullying I've received at his hands for years."
Shortly after, several stars like Halsey, Iggy Azalea, and Cara Delevingne came to Taylor's defense, while Justin and Scooter's wife chimed in to defend Scooter. Big Machine Records founder Scott Borchetta also released a statement, revealing that Taylor knew about the pending sale.
"Out of courtesy, I personally texted Taylor at 9:06 pm, Saturday, June 29th to inform her prior to the story breaking on the morning of Sunday, June 30th so she could hear it directly from me," he wrote. "I guess it might somehow be possible that her dad Scott, 13 Management lawyer Jay Schaudies (who represented Scott Swift on the shareholder calls) or 13 Management executive and Big Machine LLC shareholder Frank Bell (who was on the shareholder calls) didn't say anything to Taylor over the prior 5 days. I guess it's possible that she might not have seen my text. But, I truly doubt that she 'woke up to the news when everyone else did.'"
Scooter has yet to publicly address the drama.