10 Years Movie Review
10 Years: A Reunion to Come Home For
He's played an undercover cop, a hopeless romantic, and a stripper in 2012, and Channing Tatum is adding to his banner year with another memorable performance in 10 Years. Tatum is part of an ensemble as Jake, a man returning to his hometown for his high school reunion. Not only does the film provide its fair share of belly laughs, but it also paints a bittersweet portrait of what all those archetypes from our favorite teen comedies (the ones where someone's trying to lose their virginity at prom) might be up to 10 years later. All the players are still the same, but this time around, the cruel jock (Chris Pratt) is attempting to make amends with the geeks he beat up in high school, the popular girl's (Lynn Collins) life is no longer one to envy, and everyone is struggling to reconcile who they used to be with the people they've become.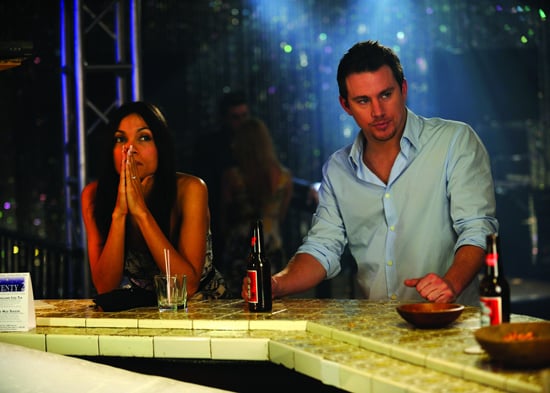 Jake's on-the-brink-of-engagement relationship with his girlfriend Jess (Jenna Dewan) is the primary focus of the movie, but it's just one of the dynamics on display throughout the night. The couple arrives in town for a preparty at old high school royalty Sam (Ari Graynor) and Cully's (Chris Pratt) house. Now living in the 'burbs with kids and a mortgage, their life is far from the homecoming court of yesteryear. One of the things that I appreciate about this movie is that it could so easily slide into a superficial trip down memory lane, but instead it plays up the realism. It's evident that despite their popular past, Sam and Cully aren't content with the paths they've taken, and they're not the only ones. To find out more about why I loved 10 Years, just keep reading.
The transparency of the characters is one of my favorite aspects of this movie. From the grown-up nerd hoping to garner attention for his fast-paced Manhattan lifestyle to the queen bee intent on reliving high school — if just for a night — everyone is trying to put their best foot forward, except we're allowed to see the cracks. We can see the sadness in Sam's eyes as Cully gets far too drunk and reverts to his old bullying ways. We can feel Jake's hesitation to propose to Jess because he's still yearning for closure with his old sweetheart (Rosario Dawson). Some of it is familiar ground, but it doesn't seem old. And though 10 Years is at times heartbreakingly honest, it's also genuinely funny.
As the movie drew to a close, I found myself hoping they would give us little epilogues on the characters, but then it struck me that this is the epilogue. These are the characters we grew up with, but all grown up. And though it may be slightly uncomfortable seeing how their lives have played out, director Jamie Linden strikes just the right balance of authenticity and entertainment to make 10 Years achingly charming.
Photo courtesy of Anchor Bay Entertainment