1600 Penn TV Show TCA Interviews
What 1600 Penn Has in Common With The West Wing and Modern Family
In real life, the Obamas are staying in the White House, but on TV, there's a new family entering the president's residence. NBC's new midseason comedy 1600 Penn is coming to Thursday nights, and the producers and stars of the show, including Bill Pullman, Jenna Elfman, and Josh Gad came to the Winter TCA to talk about the new series, their characters, and how it compares to two TV hits: Modern Family and The West Wing.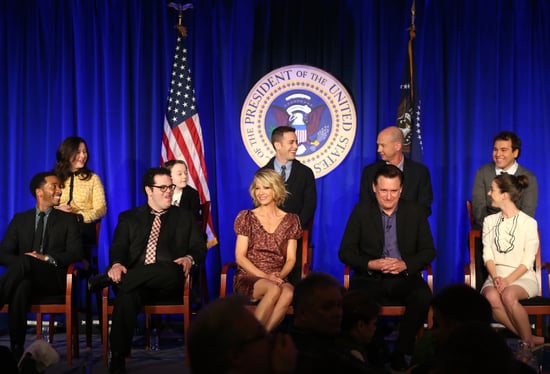 Josh Gad, who plays Skip, son of the fictional President Gilchrist, addressed the question of whether 1600 Penn is just "Modern Family goes to the White House." Gad, who has guest starred on Modern Family, acknowledged that that series is one of the funniest he's ever seen, but "we're not comparing ourselves to that. We know we have a ways to go." But he says that there's "some of that DNA inherently in these family dynamics . . . You'll start to see this family become a very fun cohesive unit," and while they have "their foibles," they're "absolutely in love with each other."
Even though the family dynamic was stressed during the panel, the political foundation is important too. On that note, Gad's fellow executive producer Jason Winer said we won't see real politicians guest starring on 1600 Penn because the show exists in an "alternate political universe." They took a cue from The West Wing, in which, Winer said, "they decided history existed up to a certain point." On 1600 Penn, Winer said, "History exists, and then we don't really mention anything after Carter."
We'll still see some real-life guest stars though, in the form of media personalities. Savannah Guthrie, Chuck Todd, and Larry King were all mentioned as making cameos.
Pullman's past presidential experience was brought up, and he talked about how it compared to his current series. "Independence Day was a good experience," he said, but he seems to feel more at home in this genre, saying, "This comedy is a fake world, but in a way, [it's] more real for me."
To find out some other bits from the 1600 Penn panel, just keep reading.
Elfman, who plays the first lady, talked about her favorite first lady: Michelle Obama. "She's just so graceful, and you know it's not easy." Speaking of not easy, Elfman's character Emily has a big challenge. She's smart and helped her husband get the presidency, Elfman said, but "her Achilles' heel is [as] the stepmother. She's kind of all thumbs."
Gad doesn't just star, he also helped develop the series — but he almost didn't play Skip. He was coming off Book of Mormon and "had a lot of opportunities," but didn't want to do a TV series. He met Winer while working on Modern Family, and they came up with the idea for the comedy, but he had no intention of playing Skip. "The character is big, very gregarious, a lot like Cunningham [his Book of Mormon character], and I didn't necessarily want to do that." However, when writer Jon Lovett came on, "the writing was so good . . . If I saw anyone else play the character of Skip, I was going to be really pissed off." Then he added, "And also, a lot of the other offers fell through."