2 Broke Girls Pilot Review
Pilot Scoop: 2 Broke Girls
The new TV season is chock full of familiar faces, and CBS's new comedy Two Broke Girls is no exception. Kat Dennings moves from the silver screen to the small screen, but brings along her signature sarcasm in this new series from executive producers Michael Patrick King (Sex and the City) and Whitney Cummings, which premieres tonight.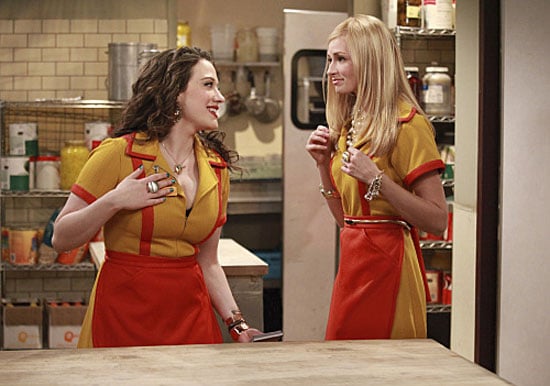 What it's about: Kat Dennings plays Max, a sassy Brooklynite working at a greasy-spoon diner in Williamsburg. When a prissy, down-on-her-luck rich girl joins her (Beth Behrs), the girls strike up an odd couple-style friendship. It's not long before Max and Caroline are living together and saving up for a business of their own.
Where it works: Dennings's acid tongue brings just the right amount of sarcasm to keep the sitcom edgy, and newcomer Behrs holds her own as spoiled but scrappy Caroline. The dynamic between them is fun to watch and the setting makes for hilarious hipster jokes aplenty.
Where it doesn't: Some of the supporting characters are a little too stereotypical (e.g., Max babysits for a rich Manhattan woman with twins named Brad and Angelina), and some of the jokes are trying too hard to push the envelope (there are jabs at both Stephen Hawking and Duke University).
You might like this show if: You're a fan of Dennings, or you're looking for the perfect show to keep the laughs going after How I Met Your Mother.
When it's on: Mondays at 8:30 p.m.
Watch a preview when you read more.