2 Broke Girls Winter TCA Panel With Michael Patrick King
Michael Patrick King Says the Jokes of 2 Broke Girls Are "Classy Dirty"
CBS brought Fall hit 2 Broke Girls to the Winter TCA, and stars Kat Dennings and Beth Behrs joined series co-creator Michael Patrick King to talk about the comedy series. King was taken to task by reporters for the jokes on the show that rely on stereotyping and sex, and he took the time to defend himself and the show's humor.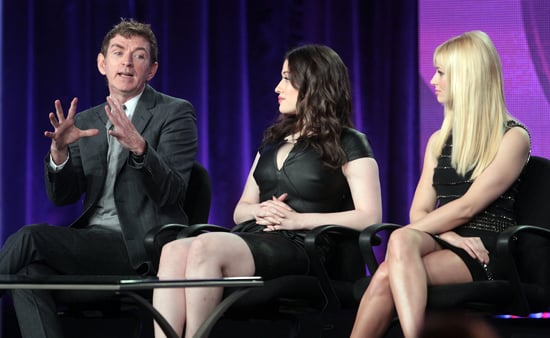 King was asked about the depiction of racial stereotypes on 2 Broke Girls, and he said that "the big story about race on our show is that so many are represented." King said that "every character is a stereotype when it's born" and that the show "started with two: a blonde and a brunette," and if you have enough time, "you get to shade the characters."
As for the sex jokes, King called the brand of humor on 2 Broke Girls "classy dirty." "Everyone loves a good naughty joke," King said, and he tried to give it a positive spin: "I think that our show is a big ballsy comedy, but it has a bigger heart than it does balls."
Dennings thinks that Max's humor is enlightening, saying that "every joke is an insight to Max's life." Even if her jokes are mean or dirty, King said that due to her tough life, "humor is our only way to have Max survive."
There was one subject everyone was delighted to talk about: Chestnut the horse. Behrs said they felt "so close!" to Rocky the horse, and Dennings recounted a time she teared up because she was rehearsing a scene with Rocky, and he nuzzled her face. King said that Rocky responds to Dennings's voice and joked that he wished Rocky "was here right now!"