2010 Golden Globe Winner For Best Movie Supporting Actress 2010-01-17 17:17:47
Do You Agree With the Globe Winner For Best Supporting Actress in a Movie?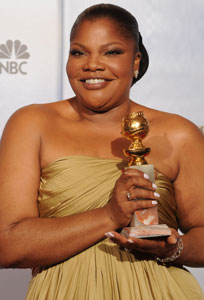 Mo'Nique is the winner of this year's Golden Globe for Best Supporting Actress for her role in Precious. She beat out Julianne Moore, Anna Kendrick, Vera Farmiga, and Penelope Cruz. Can't say I'm the least bit surprised by this one, but do you agree with this win?
Don't forget to weigh in on all the big winners by voting in my polls!