2010 Primetime Emmy Awards Ballot
Rewind: Fill Out an Emmy Ballot and Win an iPad!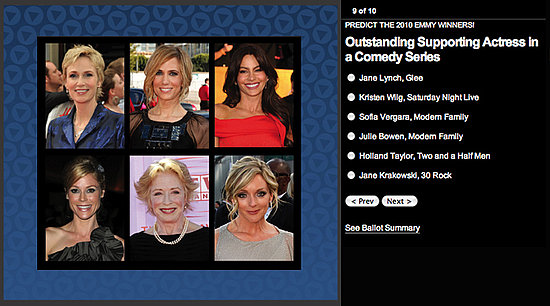 We're getting closer to the Emmys! Jimmy Fallon's promos for the evening are starting to leak, and I'm making predictions for some of the bigger categories: lead actor in a drama and for lead actor in a comedy. Don't forget to get in on the fun by filling out your own Emmy ballot — you could even win an iPad!
Another season of So You Think You Can Dance came to a close. Many of you predicted that Lauren would take it all — and you were correct! Reminisce on the season with a look back at my favorite dances.
Reality TV revved up with brand-new show Bachelor Pad. I made a few predictions about the premiere, and though not everything came true, I'm still hooked (as are most of you). Also keep an eye out for another season of Survivor — CBS just revealed the upcoming cast of colorful contestants.
Get prepped for next week's big rom-com release, The Switch, with my interview with star Jennifer Aniston and an exclusive clip from the film.
The Teen Choice Awards crowned a new crop of winners. Taylor Lautner beat out Robert Pattinson for an award, but not to worry — Pattinson still got plenty of screen time during the telecast.
While we're on the subject of beloved vampires, peek at these photos from the second season of The Vampire Diaries! Or if you're more of a True Blood fan, I have a fun Sookie vs. Snooki quiz to take (though when it comes to Bill vs. Eric, you're still very indecisive).
In honor of Eat Pray Love, I paid homage to Julia Roberts's career. Find out what director Ryan Murphy had to say about working with the famous lady.
While Scott Pilgrim vs. the World brings its fun video game concept (and a raging soundtrack) to theaters, I'm rounding up my own favorite evil exes of movies past.