2010 Primetime Emmy Awards Snap Judgments 2010-07-08 11:00:00
Snap Judgment: The Emmy Comedy Nominations
Now that the Emmy nominations are officially in, we've spent the morning mulling over the victories and disappointments. I'm dying to dish on the comedy categories (we'll get to the dramas later) because let's face it — they're the most fun. I was so happy to see my favorite newcomers Glee and Modern Family get so much love in their first seasons, but that's just the tip of the iceberg. Check out my thoughts below!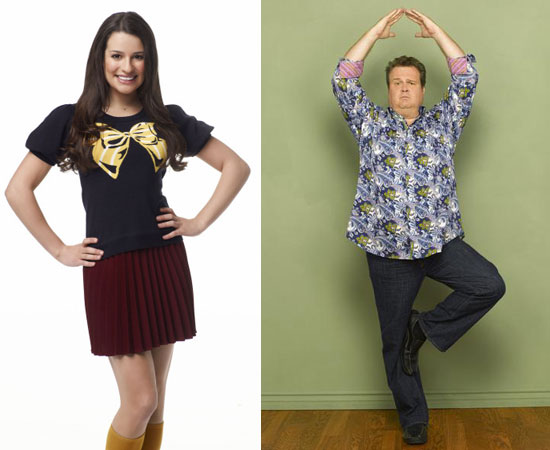 Lea Michele, Jane Lynch, and Matthew Morrison may have well been shoo-ins for nods, but I was super excited to see my wish fulfilled in the form of Chris Colfer's nomination for best supporting actor. Not only that, but Mike O'Malley's recognition as Kurt's dad was well-deserved as well. You've come a long way since Guts, my friend.
The love for Modern Family was expected, but I didn't plan on seeing so much of it. Seriously, pretty much everyone but the kids scored a nomination — do you think Ed

O'Neill

feels a little left out?
Hoorah for Amy Poehler getting a nomination for best lead actress for Parks and Recreation! She's really turned Leslie Knope (and the whole show) around, even if she's the only one who'll get to represent the show next month.
As happy as I am for Poehler, I'm equally irritated that Courteney Cox was overlooked for Cougar Town. Did you know she's also the only Friend to never score a nod? I smell a conspiracy!
Lots more ups and downs when you read more.
Is anyone else relieved that this is the last time Tony Shalhoub could possibly be nominated for Monk? Just saying.
Confession time: I didn't think Neil Patrick Harris nor Jon Hamm gave life-changing performances on Glee and 30 Rock this year, but who cares? I love them both and the fact that they were both doubly nominated just puts a huge smile on my face. I do, though, think that Hamm was even better on SNL.
Betty White, you guys. The woman is unstoppable.
To say I was pleasantly surprised to see Conan O'Brien nominated for The Tonight Show would be a huge understatement. Wouldn't it be awesome if he had a trophy to commemorate all the controversy?

Confession time, part two: The Office didn't get an overwhelming amount of love, but it still got more recognition than it deserves. I'm sorry to say it, but the latest season was definitely not superior to Community, Cougar Town, United States of Tara, or even Ugly Betty. What gives?
Speaking of Betty: nothing for its final season? Nothing at all? It's sad that a show that was so beloved in its first season can be totally forgotten just four years later. (Take heed, Glee and Modern Family . . .)
No love for Entourage? Dare I say it's about time?
Sigh. Cat Deeley, your time will come. I just know it will. In other fantastic So You Think You Can Dance news, I was overjoyed to see that Kathryn and Legacy's "Fear" dance from season six got nominated (watch it here!).
Just because: usually I don't care much about what commercials get nominated, but that Old Spice Guy really worked for that recognition.
Now it's your turn — how do you feel about these categories?
, Fox, and copyright 2010, ABC, Inc.