2010 World Cup US Versus Slovenia
The 2010 World Cup: Did You Watch at Work?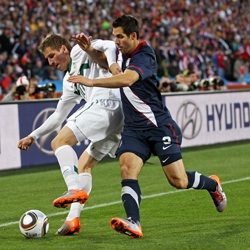 I've already asked you if you've been going to viewing parties for the World Cup, but with many of the games during the week (and during work hours), it isn't always so easy to tune in. The US team just played Slovenia this morning, and there was at least one TV in Sugar HQ on. I could even hear a few employees screaming along! Still, I know that many offices don't have that luxury, so I'm wondering — did you watch the match at work? Let me know in the comments. Oh, and for those of you who are curious, the outcome was 2-2 . . . a tie . . . again.