2011 Grammy Nominees Full List 2010-12-01 23:42:51
Announcing the 2011 Grammy Award Nominees!
We're slowly inching closer to award season, and tonight we learned who scored nominations for the biggest ceremony in the music industry: the Grammys. Last year was all about the ladies, but this time around the men are stepping up. Eminem got the most nods with eight, including song of the year and record of the year, while newcomer Bruno Mars nipped at his heels with seven nominations (guess he's not just popular among the Glee club). Speaking of the gleeks, I was pleasantly surprised to see that the cast was recognized all on their own, for their "Regionals version" of "Don't Stop Believin'" and best soundtrack.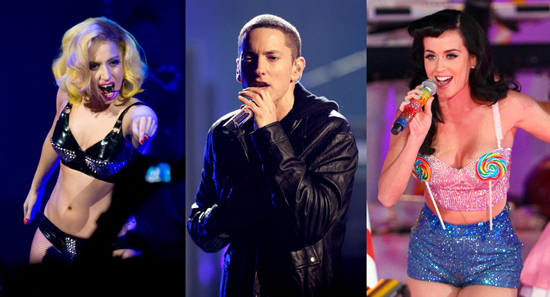 Just because the men came out on top this year doesn't mean the ladies won't be represented. As usual, Lady Gaga got plenty of recognition, along with Katy Perry and Rihanna. Other nominees that got me smiling are Arcade Fire, who picked up three noms including album of the year, and The Black Keys and Cee-Lo Green, who each picked up four nods apiece. Oh, and even the Twi-hards of the world have a reason to celebrate: the soundtrack for Eclipse scored a nod for best soundtrack.
There's a lot to digest before the gramophone trophies are distributed on February 13, so check out the full list of nominees when you read more.
RECORD OF THE YEAR
Nothin' On You", B.o.B featuring Bruno Mars
"Love The Way You Lie", Eminem featuring Rihanna
"F*ck You", Cee Lo Green
"Empire State Of Mind", Jay-Z & Alicia Keys
"Need You Now", Lady Antebellum
ALBUM OF THE YEAR
The Suburbs, Arcade Fire
Recovery, Eminem
Need You Now, Lady Antebellum
The Fame Monster, Lady Gaga
Teenage Dream, Katy Perry
SONG OF THE YEAR
"Beg Steal Or Borrow", Ray LaMontagne
"F*ck You", Cee Lo Green
"The House That Built Me", Miranda Lambert
"Love the Way You Lie", Eminem featuring Rihanna
"Need You Now", Lady Antebellum
BEST NEW ARTIST
Justin Bieber
Drake
Florence & The Machine
Mumford & Sons
Esperanza Spalding
BEST FEMALE POP VOCAL PERFORMANCE
"King Of Anything", Sara Bareilles
"Halo (Live)", Beyonce
"Chasing Pirates", Norah Jones
"Bad Romance", Lady Gaga
"Teenage Dream", Katy Perry
BEST MALE POP VOCAL PERFORMANCE
"Haven't Met You Yet", Michael Bublé
"This Is It", Michael Jackson
"Whataya Want From Me", Adam Lambert
"Just The Way You Are", Bruno Mars
"Half Of My Heart", John Mayer
BEST POP PERFORMANCE BY A DUO OR GROUP WITH VOCALS
"Don't Stop Believin' (Regionals Version)" Glee Cast
"Misery", Maroon 5
"The Only Exception", Paramore
"Babyfather", Sade
"Hey, Soul Sister (Live)", Train
BEST POP COLLABORATION WITH VOCALS
"Airplanes, Part II", B.o.B, Eminem & Hayley Williams
"Imagine", Herbie Hancock, Pink, India.Arie, Seal, Konono No. 1, Jeff Beck & Oumou Sangare
"If It Wasn't For Bad", Elton John & Leon Russell
"Telephone", Lady Gaga & Beyoncé
"California Gurls", Katy Perry & Snoop Dogg
BEST POP INSTRUMENTAL PERFORMANCE
"Flow", Laurie Anderson
"Nessun Dorma", Jeff Beck
"No Mystery", Stanley Clarke
"Orchestral Intro", Gorillaz
"Sleepwalk", The Brian Setzer Orchestrar
BEST POP INSTRUMENTAL ALBUM
"Pushing The Envelope", Gerald Albright
"Take Your Pick", Larry Carlton & Tak Matsumoto
"Heart And Soul", Kenny G
"Singularity", Robby Krieger
"Everything Is Everything: The Music Of Donny Hathaway", Kirk Whalum
BEST POP ALBUM
My World 2.0, Justin Bieber
I Dreamed A Dream, Susan Boyle
The Fame Monster, Lady Gaga
Battle Studies, John Mayer
Teenage Dream, Katy Perry
BEST DANCE RECORDING
"Rocket", Goldfrapp
"In For The Kill", La Roux
"Dance In The Dark", Lady Gaga
"Only Girl (In The World)", Rihanna
"Dancing On My Own", Robyn
BEST ELECTRONIC/DANCE ALBUM
These Hopeful Machines, BT
Further, The Chemical Brothers
Head First, Goldfrapp
Black Light, Groove Armada
La Roux, La Roux
BEST TRADITIONAL POP VOCAL ALBUM
Crazy Love, Michael Bublé
The Greatest Love Songs Of All Time, Barry Manilow
Let It Be Me: Mathis In Nashville, Johnny Mathis
Fly Me To The Moon…The Great American Songbook: Volume V, Rod Stewart
Love Is The Answer, Barbra Streisand
BEST SOLO ROCK VOCAL PERFORMANCE
"Run Back To Your Side", Eric Clapton
"Crossroads", John Mayer
"Helter Skelter", Paul McCartney
"Silver Rider", Robert Plant
"Angry World", Neil Young
BEST ROCK PERFORMANCE BY A DUO OR GROUP WITH VOCALS
"Ready To Start", Arcade Fire
"I Put A Spell On You", Jeff Beck & Joss Stone
"Tighten Up", The Black Keys
"Radioactive", Kings Of Leon
"Resistance", Muse
BEST HARD ROCK PERFORMANCE
"A Looking In View", Alice In Chains
"Let Me Hear You Scream", Ozzy Osbourne
"Black Rain", Soundgarden
"Between The Lines", Stone Temple Pilots
"New Fang", Them Crooked Vultures
BEST METAL PERFORMANCE
"El Dorado", Iron Maiden
"Let The Guilt Go", Korn
"In Your Words", Lamb Of God
"Sudden Death", Megadeth
"World Painted Blood", Slayer
BEST ROCK INSTRUMENTAL PERFORMANCE
"Hammerhead", Jeff Beck
"Black Mud", The Black Keys
"Do The Murray", Los Lobos
"Kundalini Bonfire", Dave Matthews & Tim Reynolds
"The Deathless Horsie", Dweezil Zappa
BEST ROCK SONG
"Angry World", Neil Young
"Little Lion Man", Mumford & Sons
"Radioactive", Kings of Leon
"Resistance", Muse
"Tighten Up", The Black Keys
BEST ROCK ALBUM
Emotion & Commotion, Jeff Beck
The Resistance, Muse
Backspacer, Pearl Jam
Mojo, Tom Petty And The Heartbreakers
Le Noise, Neil Young
BEST ALTERNATIVE MUSIC ALBUM
The Suburbs, Arcade Fire
Infinite Arms, Band Of Horses
Brothers, The Black Keys
Broken Bells, Broken Bells
Contra, Vampire Weekend
BEST FEMALE R&B VOCAL PERFORMANCE
"Gone Already", Faith Evans
"Bittersweet", Fantasia
"Everything To Me", Monica
"Tired", Kelly Price
"Holding You Down (Going In Circles)", Jazmine Sullivan
BEST MALE R&B VOCAL PERFORMANCE
"Second Chance", El DeBarge
"Finding My Way Back", Jaheim
"Why Would You Stay", Kem
"We're Still Friends", (Kirk Whalum &) Musiq Soulchild
"There Goes My Baby", Usher
BEST R&B PERFORMANCE BY A DUO OR GROUP WITH VOCALS
"Take My Time", Chris Brown & Tank
"Love", Chuck Brown, Jill Scott & Marcus Miller
"You've Got A Friend", Ronald Isley & Aretha Franklin
"Shine", John Legend & The Roots
"Soldier Of Love", Sade
BEST TRADITIONAL R&B VOCAL PERFORMANCE
"When A Woman Loves", R. Kelly
"Hang On In There", John Legend & The Roots
"You're So Amazing", Calvin Richardson
"In Between", Ryan Shaw
"Go [Live]", Betty Wright
BEST URBAN/ALTERNATIVE PERFORMANCE
"Little One", Bilal
"F*ck You", Cee Lo Green
"Orion", Carolyn Malachi
"Tightrope", Janelle Monáe & Big Boi
"Still", Eric Roberson
BEST R&B SONG
"Bittersweet", Fantasia
"Finding My Way Back", Jaheim
"Second Chance", El DeBarge
"Shine", John Legend & The Roots
"Why Would You Stay," Kem
BEST R&B ALBUM
The Love & War Masterpeace, Raheem DeVaughn
Back To Me, Fantasia
Another Round, Jaheim
Wake Up!, John Legend & The Roots
Still Standing, Monica
BEST CONTEMPORARY R&B ALBUM
Graffiti, Chris Brown
Untitled, R. Kelly
Transition, Ryan Leslie
The ArchAndroid, Janelle Monáe
Raymond V Raymond, Usher
BEST RAP SOLO PERFORMANCE
"Over", Drake
"Not Afraid", Eminem
"How Low", Ludacris
"I'm Back", T.I.
"Power", Kanye West
BEST RAP PERFORMANCE BY A DUO OR GROUP
"Shutterbugg", Big Boi & Cutty
"Fancy", Drake, T.I. & Swizz Beatz
"On To The Next One", Jay-Z & Swizz Beatz
"My Chick Bad", Ludacris & Nicki Minaj
"Lose My Mind", Young Jeezy & Plies
BEST RAP/SUNG COLLABORATION
"Nothin' On You", B.o.B Featuring Bruno Mars
"Deuces", Chris Brown, Tyga & Kevin McCall
"Love The Way You Lie", Eminem & Rihanna
"Empire State Of Mind", Jay-Z & Alicia Keys
"Wake Up! Everybody", John Legend, The Roots, Melanie Fiona & Common
BEST RAP SONG
"Empire State of Mind", Jay-Z & Alicia Keys
"Love the Way You Lie", Eminem featuring Rihanna
"Not Afraid", Eminem
"Nothin' On You", B.o.B. featuring Bruno Mars
"On to the Next One", Jay-Z & Swizz Beatz
BEST RAP ALBUM
The Adventures Of Bobby Ray, B.o.B
Thank Me Later, Drake
Recovery, Eminem
The Blueprint 3, Jay-Z
How I Got Over, The Roots
BEST FEMALE COUNTRY VOCAL PERFORMANCE
"Satisfied", Jewel
"The House That Built Me", Miranda Lambert
"Swingin'", LeAnn Rimes
"Temporary Home", Carrie Underwood
"I'd Love To Be Your Last", Gretchen Wilson
BEST MALE COUNTRY VOCAL PERFORMANCE
"Macon", Jamey Johnson
"Cryin' For Me (Wayman's Song)", Toby Keith
"Turning Home", David Nail
"'Til Summer Comes Around", Keith Urban
"Gettin' You Home", Chris Youn
BEST COUNTRY PERFORMANCE BY A DUO OR GROUP WITH VOCAL
Free, Zac Brown Band
Elizabeth, Dailey & Vincent
Need You Now, Lady Antebellum
Little White Church, Little Big Town
Where Rainbows Never Die, The SteelDrivers
BEST COUNTRY COLLABORATION WITH VOCALS
"Bad Angel", Dierks Bentley, Miranda Lambert, and Jamey Johnson
"Pride (In the Name of Love)" Dierks Bentley, Del McCoury, and The Punch Brothers
"As She's Walking Away", Zac Brown Band and Alan Jackson
"Hillbilly Bone", Bake Shelton and Trace Adkins
"I Run to You", Marty Stuart and Connie Smith
BEST COUNTRY INSTRUMENTAL PERFORMANCE
"Tattoo Of A Smudge", Cherryholmes
"Magic #9", The Infamous Stringdusters
"New Chance Blues", Punch Brothers
"Willow Creek", Darrell Scott
"Hummingbyrd", Marty Stuart
BEST COUNTRY SONG
The Breath You Take", George Strait
"Free", Zac Brown Band
"The House That Built Me", Miranda Lambert
"I'd Love To Be Your Last", Gretchen Wilson
"If I Die Young", The Band Perry
"Need You Now", Lady Antebellum
BEST COUNTRY ALBUM
Up On The Ridge, Dierks Bentley
You Get What You Give, Zac Brown Band
The Guitar Song, Jamey Johnson
Need You Now, Lady Antebellum
Revolution, Miranda Lambert
BEST NEW AGE ALBUM
Ocean, Michael Brant DeMaria
Sacred Journey Of Ku-Kai, Volume 4, Kitaro
Dancing Into Silence, R. Carlos Nakai, William Eaton & Will Clipman
Miho: Journey To The Mountain, Paul Winter Consort
Instrumental Oasis, Vol. 4, Zamora
BEST CONTEMPORARY JAZZ ALBUM
The Stanley Clarke Band, The Stanley Clarke Band
Never Can Say Goodbye, Joey DeFrancesco
Now Is The Time, Jeff Lorber Fusion
To The One, John McLaughlin
Backatown, Trombone Shorty
BEST JAZZ VOCAL ALBUM
Eleanora Fagan (1915-1959): To Billie With Love From Dee Dee, Dee Dee Bridgewater
Freddy Cole Sings Mr. B, Freddy Cole
When Lights Are Low, Denise Donatelli
Ages, Lorraine Feather
Water, Gregory Porter
BEST AMERICANA ALBUM
The List, Rosanne Cash
Tin Can Trust, Los Lobos
Country Music, Willie Nelson
Band Of Joy, Robert Plant
You Are Not Alone, Mavis Staples
BEST COMEDY ALBUM
Cho Dependent, Margaret Cho
I Told You I Was Freaky, Flight Of The Conchords
Kathy Griffin Does The Bible Belt, Kathy Griffin
Stark Raving Black, Lewis Black
Weapons Of Self Destruction, Robin William
BEST COMPILATION SOUNDTRACK ALBUM FOR MOTION PICTURE, TV, ETC
Crazy Heart
Glee: The Music, Volume 1
Tremé
True Blood - Volume 2
The Twilight Saga: Eclipse
BEST SCORE SOUNDTRACK ALBUM FOR MOTION PICTURE, TV, ETC
Alice In Wonderland, Danny Elfman, composer
Avatar, James Horner, composer
Inception, Hans Zimmer, composer
Sherlock Holmes, Hans Zimmer, composer
Toy Story 3, Randy Newman, composer
BEST SONG WRITTEN FOR MOTION PICTURE, TV, ETC
"Down In New Orleans" (From The Princess And The Frog), Randy Newman, songwriter (Dr. John)
"I See You" (From Avatar), Simon Franglen, Kuk Harrell & James Horner, songwriters (Leona Lewis)
"Kiss Like Your Kiss" (From True Blood), Lucinda Williams, songwriter (Lucinda Williams & Elvis Costello)
"This City" (From Tremé), Steve Earle, songwriter (Steve Earle)
"The Weary Kind" (From Crazy Heart), Ryan Bingham & T Bone Burnett, songwriters (Ryan Bingham)
PRODUCER OF THE YEAR (NON-CLASSICAL)
Rob Cavallo
Danger Mouse
Dr. Luke
RedOne
The Smeezingtons
BEST REMIXED RECORDING
"Fantasy" (Morgan Page Remix), Morgan Page, remixer (Nadia Ali)
"Funk Nasty" (Wolfgang Gartner Remix Edit), Wolfgang Gartner, remixer (Andy Caldwell Featuring Gram'ma Funk)
"Orpheus" (Quiet Carnival) (Funk Generation Mix), Mike Rizzo, remixer (Sergio Mendes)
"Revolver" (David Guetta's One Love Club Remix), David Guetta, remixer (Madonna)
"Sweet Disposition" (Axwell & Dirty South Remix), Axel Hedfors & Dragan Roganovic, remixers (The Temper Trap)