2011 Grammy Winners Full List 2011-02-13 20:34:56
Announcing the Winners of the 2011 Grammy Awards!
There goes another staple in award season — the Grammys are a wrap! The night was chock-full of performances from standouts like Justin Bieber and Lady Gaga, but there were a few statuettes passed out between songs.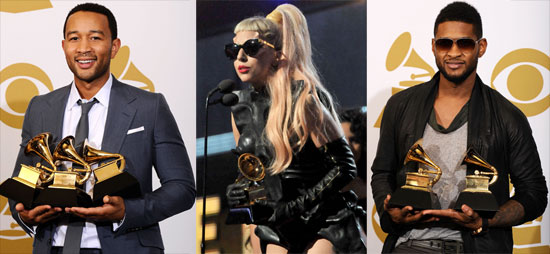 Muse frontman Matt Bellamy took the opportunity to thank his "beautiful pregnant girlfriend" Kate Hudson while accepting the trophy for best rock album, and Lady Gaga gave props to Whitney Houston in her acceptance speech for best pop album. Lady Antebellum scored big with five golden gramophones, but it was Arcade Fire that won the biggest award of the night, taking home the accolade for album of the year.
Check out the full list of winners when you read more.
RECORD OF THE YEAR
"Need You Now", Lady Antebellum
ALBUM OF THE YEAR
The Suburbs, Arcade Fire
SONG OF THE YEAR
"Need You Now", Lady Antebellum
BEST NEW ARTIST
Esperanza Spalding
BEST FEMALE POP VOCAL PERFORMANCE
"Bad Romance", Lady Gaga
BEST MALE POP VOCAL PERFORMANCE
"Just The Way You Are", Bruno Mars
BEST POP PERFORMANCE BY A DUO OR GROUP WITH VOCALS
"Hey, Soul Sister (Live)", Train
BEST POP COLLABORATION WITH VOCALS
"Imagine", Herbie Hancock, Pink, India.Arie, Seal, Konono No. 1, Jeff Beck & Oumou Sangare
BEST POP INSTRUMENTAL PERFORMANCE
"Nessun Dorma", Jeff Beck
BEST POP INSTRUMENTAL ALBUM
"Take Your Pick", Larry Carlton & Tak Matsumoto
BEST POP ALBUM
The Fame Monster, Lady Gaga
BEST DANCE RECORDING
"Only Girl (In The World)", Rihanna
BEST ELECTRONIC/DANCE ALBUM
La Roux, La Roux
BEST TRADITIONAL POP VOCAL ALBUM
Crazy Love, Michael Bublé
BEST SOLO ROCK VOCAL PERFORMANCE
"Helter Skelter", Paul McCartney
BEST ROCK PERFORMANCE BY A DUO OR GROUP WITH VOCALS
"Tighten Up", The Black Keys
BEST HARD ROCK PERFORMANCE
"New Fang", Them Crooked Vultures
BEST METAL PERFORMANCE
"El Dorado", Iron Maiden
BEST ROCK INSTRUMENTAL PERFORMANCE
"Hammerhead", Jeff Beck
BEST ROCK SONG
"Angry World", Neil Young
BEST ROCK ALBUM
The Resistance, Muse
BEST ALTERNATIVE MUSIC ALBUM
Brothers, The Black Keys
BEST FEMALE R&B VOCAL PERFORMANCE
"Bittersweet", Fantasia
BEST MALE R&B VOCAL PERFORMANCE
"There Goes My Baby", Usher
BEST R&B PERFORMANCE BY A DUO OR GROUP WITH VOCALS
"Soldier Of Love", Sade
BEST TRADITIONAL R&B VOCAL PERFORMANCE
"Hang On In There", John Legend & The Roots
BEST URBAN/ALTERNATIVE PERFORMANCE
"F*ck You", Cee Lo Green
BEST R&B SONG
"Shine", John Legend & The Roots
BEST R&B ALBUM
Wake Up!, John Legend & The Roots
BEST CONTEMPORARY R&B ALBUM
Raymond V Raymond, Usher
BEST RAP SOLO PERFORMANCE
"Not Afraid", Eminem
BEST RAP PERFORMANCE BY A DUO OR GROUP
"On To The Next One", Jay-Z & Swizz Beatz
BEST RAP/SUNG COLLABORATION
"Empire State Of Mind", Jay-Z & Alicia Keys
BEST RAP SONG
"Empire State of Mind", Jay-Z & Alicia Keys
BEST RAP ALBUM
Recovery, Eminem
BEST FEMALE COUNTRY VOCAL PERFORMANCE
"The House That Built Me", Miranda Lambert
BEST MALE COUNTRY VOCAL PERFORMANCE
"'Til Summer Comes Around", Keith Urban
BEST COUNTRY PERFORMANCE BY A DUO OR GROUP WITH VOCALS
Need You Now, Lady Antebellum
BEST COUNTRY COLLABORATION WITH VOCALS
"As She's Walking Away", Zac Brown Band and Alan Jackson
BEST COUNTRY INSTRUMENTAL PERFORMANCE
"Hummingbyrd", Marty Stuart
BEST COUNTRY SONG
"Need You Now", Lady Antebellum
BEST COUNTRY ALBUM
Need You Now, Lady Antebellum
BEST NEW AGE ALBUM
Miho: Journey To The Mountain, Paul Winter Consort
BEST CONTEMPORARY JAZZ ALBUM
The Stanley Clarke Band, The Stanley Clarke Band
BEST JAZZ VOCAL ALBUM
Eleanora Fagan (1915-1959): To Billie With Love From Dee Dee, Dee Dee Bridgewater
BEST AMERICANA ALBUM
You Are Not Alone, Mavis Staples
BEST COMEDY ALBUM
Stark Raving Black, Lewis Black
BEST COMPILATION SOUNDTRACK ALBUM FOR MOTION PICTURE, TV, ETC
Crazy Heart
BEST SCORE SOUNDTRACK ALBUM FOR MOTION PICTURE, TV, ETC
Toy Story 3, Randy Newman, composer
BEST SONG WRITTEN FOR MOTION PICTURE, TV, ETC
"The Weary Kind" (From Crazy Heart), Ryan Bingham & T Bone Burnett, songwriters (Ryan Bingham)
PRODUCER OF THE YEAR (NON-CLASSICAL)
Danger Mouse
BEST REMIXED RECORDING
"Revolver" (David Guetta's One Love Club Remix), David Guetta, remixer (Madonna)
BEST SHORT FORM MUSIC VIDEO
"Bad Romance," Lady Gaga
BEST LONG FORM MUSIC VIDEO
"When You're Strange," The Doors
BEST RECORDING PACKAGE
Brothers, Michael Carney , art director (The Black Keys)
BEST BOXED OR SPECIAL LIMITED EDITION PACKAGE
Under Great White Northern Lights (Limited Edition Box Set), The White Stripes
BEST ALBUM NOTES
Keep an Eye on the Sky, Big Star
BEST HISTORICAL ALBUM
The Beatles (The Original Studio Recordings)
BEST ENGINEERED ALBUM, NON-CLASSICAL
Battle Studies, John Mayer
BEST SURROUND SOUND ALBUM
Britten's Orchestra, Michael Stern and Kansas City Symphony
BEST INSTRUMENTAL COMPOSITION
The Path Among Trees, Billy Childs Ensemble
BEST INSTRUMENTAL ARRANGEMENT
Carlos, John Scofield, Vince Mendoza, and Metropole Orkest
BEST INSTRUMENTAL ARRANGEMENT ACCOMPANYING VOCALIST(S)
Baba Yetu, Christopher Tin, Soweto Gospel Choir and Royal Philharmonic Orchestra
BEST MUSICAL ALBUM FOR CHILDREN
Tomorrow's Children, Pete Seeger With The Rivertown Kids and Friends
BEST SPOKEN WORD ALBUM FOR CHILDREN
Julie Andrews' Collection of Poems, Songs, and Lullabies, Julie Andrews and Emma Walton Hamilton
BEST SPOKEN WORD ALBUM (INCLUDES POETRY, AUDIO BOOKS, AND STORYTELLING)
The Daily Show With Jon Stewart Presents Earth (The Audiobook), Jon Stewart
BEST MUSICAL SHOW ALBUM
American Idiot, Billie Joe Armstrong
BEST HAWAIIAN MUSIC ALBUM
Huana Ke Aloha, Tia Carrere
BEST NATIVE AMERICAN MUSIC ALBUM
2010 Gathering of Nations Pow Wow: A Spirit's Dance, Derek Mathews, Dr. Lita Mathews, and Melonie Mathews
BEST ZYDECO OR CAJUN MUSIC ALBUM
Zydeco Junkie, Chubby Carrier and the Bayou Swamp Band
BEST REGGAE ALBUM
Before the Dawn, Buju Banton
BEST TRADITIONAL WORLD MUSIC ALBUM
Ali and Toumani, Ali Farka Toure and Toumani Diabate
BEST CONTEMPORARY WORLD MUSIC ALBUM
Throw Down Your Heart, Africa Sessions Part 2: Unreleased Tracks, Bela Fleck
BEST LATIN POP ALBUM
Paraiso Express, Alejandro Sanz
BEST LATIN ROCK, ALTERNATIVE OR URBAN ALBUM
El Existential, Grupo Fantasma
BEST TROPICAL LATIN ALBUM
Viva La Tradicion, Spanish Harlem Orchestra
BEST TEJANO ALBUM
Recuerdos, Little Joe and La Familia
BEST NORTENO ALBUM
Classic, Intocable
BEST BANDA ALBUM
Enamorate De Mi, El Guero Y Su Banda Centenario
BEST GOSPEL PERFORMANCE
Grace, BeBe and CeCe Winans
BEST GOSPEL SONG
It's What I Do, Kirk Whalum and Lalah Hathaway
BEST ROCK OR RAP GOSPEL ALBUM
Hello Hurricane, Switchfoot
BEST POP/CONTEMPORARY GOSPEL ALBUM
Love God. Love People., Israel Houghton
BEST SOUTHERN, COUNTRY, OR BLUEGRASS GOSPEL ALBUM
The Reason, Diamond Rio
BEST TRADITIONAL GOSPEL ALBUM
Downtown Church, Patty Griffin
BEST CONTEMPORARY R&B GOSPEL ALBUM
Still, BeBe and CeCe Winans
BEST ENGINEERED ALBUM, CLASSICAL
Daugherty: Metropolis Symphony; Deus Ex Machina, Giancarlo Guerrero and Nashville Symphony Orchestra
AND
Porter, Quincy: Complete Viola Works, Eliesha Nelson and John McLaughlin Williams
BEST ORCHESTRAL PERFORMANCE
Daugherty: Metropolis Symphony; Deus Ex Machina, Terrence Wilson and Nashville Symphony
BEST OPERA RECORDING
Saariaho: L'Amour De Loin, Deutsches Symphonie-Orchester Berlin; Rundfunkchor Berlin
BEST CHORAL PERFORMANCE
Verdi: Requiem, Ildar Abdrazakov, Olga Borodina, Barbara Frittoli and Mario Zeffiri; Chicago Symphony Orchestra; Chicago Symphony Chorus
BEST INSTRUMENTAL SOLOIST(S) PERFORMANCE (WITH ORCHESTRA)
Messiaen: Livre Du Saint-Sacrement, Paul Jacobs
BEST CHAMBER MUSIC PERFORMANCE
Ligeti: String Quartets Nos. 1&2, Parker Quartet
BEST SMALL ENSEMBLE PERFORMANCE
Dinastia Borja
BEST CLASSICAL VOCAL PERFORMANCE
Sacrificium, Giovanni Antonini and Il Giardino Armonico
BEST CLASSICAL CONTEMPORARY COMPOSITION
Daugherty, Michael: Deus Ex Machina, Giancarlo Guerrero
BEST CLASSICAL CROSSOVER ALBUM
Tin, Christopher: Calling All Dawns
PRODUCER OF THE YEAR, CLASSICAL
David Frost
BEST CLASSICAL ALBUM
Verdi: Requiem
BEST CONTEMPORARY JAZZ ALBUM
The Stanley Clarke Band, The Stanley Clarke Band
BEST JAZZ VOCAL ALBUM
Eleanora Fagan (1915-1959): To Billie With Love From Dee Dee, Dee Dee Bridgewater
BEST IMPROVISED JAZZ SOLO
A Change Is Gonna Come, Herbie Hancock
BEST JAZZ INSTRUMENTAL ALBUM, INDIVIDUAL OR GROUP
Moody 4B, James Moody
BEST LARGE JAZZ ENSEMBLE ALBUM
Mingus Big Band Live at Jazz Standard, Mingus Big Band
BEST LATIN JAZZ ALBUM
Chucho's Steps, Chuco Valdes and The Afro-Cuban Messengers
BEST BLUEGRASS ALBUM
Mountain Soul II, Patty Loveless
BEST TRADITIONAL BLUES ALBUM
Joined at the Hip, Pinetop Perkins and Willie "Big Eyes" Smith
BEST CONTEMPORARY BLUES ALBUM
Living Proof, Buddy Guy
BEST TRADITIONAL FOLK ALBUM
Genuine Negro Jig, Carolina Chocolate Drops
BEST CONTEMPORARY FOLK ALBUM
God Willin' and the Creek Don't Rise, Ray LaMontagne and the Pariah Dogs