2011 Oscar Ballot Contest Winner Announcement
Announcing the Winner of the 2011 Oscar Giveaway!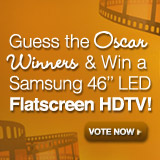 Congratulations to user jerryg for winning our Oscar ballot giveaway! His ballot votes matched up with the most winners on Oscar night, snagging him the grand prize: a 46-inch Samsung LED HDTV! Thanks for playing everyone, and good luck next year!