2011 Screen Actors Guild Award Winners, Pictures, and Highlights
Rewind: Star-Studded SAGs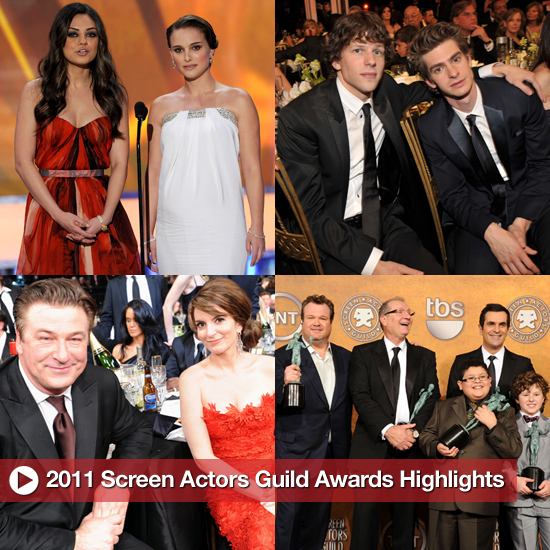 The stars of this year's award season came out again, this time for the Screen Actors Guild Awards. ICYMI, check out the full list of winners and vote on each of my polls if you're tired of seeing the same actors win over and over.
Meet the new contestants vying for America's Next Top Model before cycle 16 begins.
Now that we've got ourselves a Superman, it's time to cast his love interest. Which of these ladies would you choose for the role?
The Twilight kids are moving on: here's the new poster for Water for Elephants featuring Robert Pattinson, plus first photos of Kristen Stewart in On the Road. Meanwhile, Twilight infiltrated other pop culture this week too: watch the characters of Parks and Recreation talk about the books!
Hot import alert: here are 10 British up-and-comers who are about to hit it big.
One of those Brits is Andrew Garfield, who showed off his superhero skills on the set of Spider-Man this week.
Think you know your TV Kellys? Kapowski, Taylor, and Kapoor go head-to-head in my quiz.
Valentine's Day is just around the corner and our favorite TV shows are getting in the spirit.
Wedding season has never been so funny: Kristen Wiig and a host of other hilarious actresses showed up in the trailer for Bridesmaids.
Gossip Girl here: The latest scoop is that we're sensing a connection between Dan and Blair, but do you want to see them, plus these other TV couples, get together?