2012 Golden Globe Nominations Opinion
2012 Golden Globe Nominations: Snap Judgments
Congrats to all of this year's Golden Globe nominees! Now that we've had the chance to digest all the nods, it's time to analyze the nominations and both sing the praises and decry the snubs from this year's list of honorees. Check out our snap judgments of the Golden Globe nominations, both good and bad, below.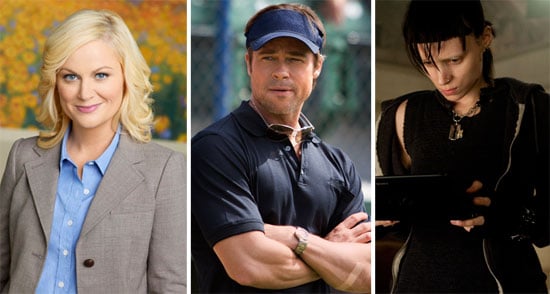 One huge yay for the movies and actors we're happy got recognized: 50/50, Midnight in Paris, Jonah Hill, Charlize Theron, Kristen Wiig, Albert Brooks, Joseph Gordon-Levitt, and Owen Wilson.
The Hollywood Foreign Press seems to have as big a crush on Ryan Gosling as everyone else does; the actor scored two best actor nods: one in the drama category for The Ides of March and one in the comedy category for Crazy, Stupid, Love. We're all about the Gosling love, but we're wondering why he was passed up for Drive, a stronger, more interesting (if quieter) role for him.
Speaking of Gosling, the best actor in a drama category might as well just be retitled the Handsome Men's Club. With Gosling, George Clooney, Brad Pitt, Michael Fassbender, and Leonardo DiCaprio, we're not sure if this is an acting competition or a measure of who's better looking. Not that we're complaining.
As if we needed any other confirmation that new TV has been fantastic, the Golden Globes nominations really drive the point home, recognizing tons of new series like Homeland, Game of Thrones, Episodes, New Girl, and more.
Some SAG snubs that the Golden Globes made right were the nominations for Michael Fassbender for Shame and Rooney Mara for The Girl With the Dragon Tattoo.
Now, to see the snubs and other nominations we're not so psyched about, just keep reading.
The Ides of March scored big, but we're not sure why. We're huge fans of George Clooney, but were underwhelmed by the film. With nods for best picture, director, actor, and screenplay, we wonder who's been drinking the Clooney Kool-Aid.
No nominations for The Muppets? The movie would have rounded out best musical or comedy category nicely, since it is actually a musical, and a great one at that. More shocking is the fact that it's not up for any best original songs when it has so many great options like "Man or Muppet" and "Life's a Happy Song." Oscar, we're looking at you to make this right.
The only sore point in all the recognition for new TV series is that they seem to have forgotten similarly strong returning series, like Parks and Recreation for best comedy. And there's also no nomination for Steve Carell for best actor in a comedy series for his last season of The Office. After getting denied the Emmy this year, we hoped the Golden Globes would give him his last last chance to be honored.
The big bang rivalry? We're shocked to see Johnny Galecki nominated in the best actor in a comedy series for The Big Bang Theory over Jim Parsons. Adding to the strangeness is the fact that Parsons won the Golden Globe in this category last year and the Emmy earlier this year.
And finally, Harry Potter and the Deathly Hallows Part 2 was left off the list. It's their last chance and a great film in a great franchise. Who managed this mischief?!
Now that we've given our two cents, leave your own cheers and jeers in the comments!