2012 People's Choice Awards Winners Full List
Announcing the Winners of the 2012 People's Choice Awards!
The people have spoken! The People's Choice Awards have all been handed out after fans voted for their favorites in categories for movies, TV, and music. It was no surprise that Harry Potter and the Deathly Hallows Part 2 was a big winner since it was the last chance for the wizarding series, and vampires from both the big and small screens also got their chance to come onstage. The Vampire Diaries' Nina Dobrev won for favorite TV drama actress, and though Robert Pattinson may have lost favorite movie actor, he accepted the award for Water for Elephants for favorite drama.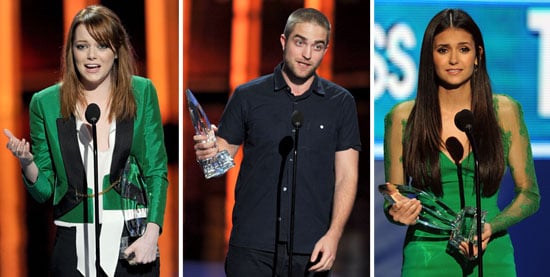 See who else won in the full list of the winners after the jump.
MOVIES
FAVORITE MOVIE
Harry Potter and the Deathly Hallows: Part 2
FAVORITE MOVIE ACTOR
Johnny Depp
FAVORITE MOVIE ACTRESS
Emma Stone
FAVORITE MOVIE ICON
Morgan Freeman
FAVORITE ACTION MOVIE
Harry Potter and the Deathly Hallows: Part 2
FAVORITE ACTION MOVIE STAR
Hugh Jackman
FAVORITE DRAMA MOVIE
Water for Elephants
FAVORITE COMEDY MOVIE
Bridesmaids
FAVORITE COMEDIC MOVIE ACTOR
Adam Sandler
FAVORITE COMEDIC MOVIE ACTRESS
Emma Stone
FAVORITE MOVIE STAR UNDER 25
Chloe Moretz
FAVORITE ENSEMBLE MOVIE CAST
Harry Potter and the Deathly Hallows: Part 2
FAVORITE ANIMATED MOVIE VOICE
Johnny Depp as Rango, Rango
FAVORITE MOVIE SUPERHERO
Green Lantern
FAVORITE BOOK ADAPTATION
Harry Potter and the Deathly Hallows Part 2
TELEVISION
FAVORITE NETWORK TV DRAMA
Supernatural
FAVORITE TV DRAMA ACTOR
Nathan Fillion
FAVORITE TV DRAMA ACTRESS
Nina Dobrev
FAVORITE NETWORK TV COMEDY
How I Met Your Mother
FAVORITE TV COMEDY ACTOR
Neil Patrick Harris
FAVORITE TV COMEDY ACTRESS
Lea Michele
FAVORITE CABLE TV COMEDY
Hot in Cleveland
FAVORITE TV COMPETITION SHOW
American Idol
FAVORITE TV CRIME DRAMA
Castle
FAVORITE SCI-FI/FANTASY SHOW
Supernatural
FAVORITE DAYTIME TV HOST
Ellen DeGeneres
FAVORITE LATE NIGHT TV HOST
Jimmy Fallon
FAVORITE TV GUEST STAR
Katy Perry, How I Met Your Mother
FAVORITE TV CELEBREALITY STAR
Kim Kardashian
FAVORITE NEW TV DRAMA
Person of Interest
FAVORITE NEW TV COMEDY
2 Broke Girls
MUSIC
FAVORITE MALE ARTIST
Bruno Mars
FAVORITE FEMALE ARTIST
Katy Perry
FAVORITE SONG OF THE YEAR
"E.T," Katy Perry featuring Kanye West
FAVORITE ALBUM OF THE YEAR
Lady Gaga, Born This Way
FAVORITE POP ARTIST
Demi Lovato
FAVORITE HIP-HOP ARTIST
Eminem
FAVORITE R&B ARTIST
Rihanna
FAVORITE BAND
Maroon 5
FAVORITE COUNTRY ARTIST
Taylor Swift
FAVORITE MUSIC VIDEO
"Last Friday Night (T.G.I.F.)," Katy Perry
FAVORITE TOUR HEADLINER
Katy Perry