21 Jump Street DVD Release
What to Rent: New DVDs This Week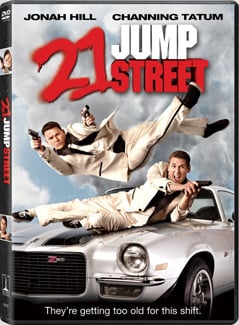 Schmidt (Jonah Hill) and Jenko (Channing Tatum) are unlikely partners assigned to go undercover and infiltrate a high-school drug ring in this comedic adaptation of the '80s cop show. Fitting in proves to be a little more difficult than they imagined, and their drug mission soon takes a back burner to their quest for popularity. The film has a nice balance of chase scenes and hilarious high-school moments, and Tatum holds his own against comedic veteran Hill. DVD extras include a blooper reel, a segment with Johnny Depp, deleted scenes, and an audio commentary.

85%
In this charming, award-winning darling, Jean Dujardin plays George Valentin, a silent film actor whose life is turned upside-down upon the arrival of talking pictures. As the world collapses around him, he finds a friend in dancer Peppy Miller (Bérénice Bejo), whose vigor for talkies reignites his passion for filmmaking. The near-completely silent The Artist won five Oscars, including best picture, best director, and best actor. Extras include a making-of featurette, a blooper reel, and a look at the locations used in the film.

98%
One more release when you read more.
Lily Collins and Julia Roberts star as Snow White and the Evil Queen, respectively, in this retelling of the classic fairy tale. The traditional story of the poor girl targeted by her wicked stepmother after the death of her father remains the same, but director Tarsem Singh brings a unique aesthetic to the candy-colored flick. Though the pacing is slow, Armie Hammer shines as the handsome prince who falls for Snow. Special features include a dance-along video, some behind-the-scenes featurettes, deleted scenes, and an interactive storybook.
50%