21 and Over Movie Review
21 and Over Is Funny, But . . .
With spring break season just a few weeks away, the release of new comedy 21 and Over is a perfectly timed cross section of raucous college life. It's an entertaining, raunchy romp that follows two high school BFFs determined to give their third musketeer a proper 21st birthday — and, naturally, things quickly go awry. So what's the downside? Ultimately, it's just another "one crazy night" movie that's been done a million times before. Here are more of the pros and cons of 21 and Over: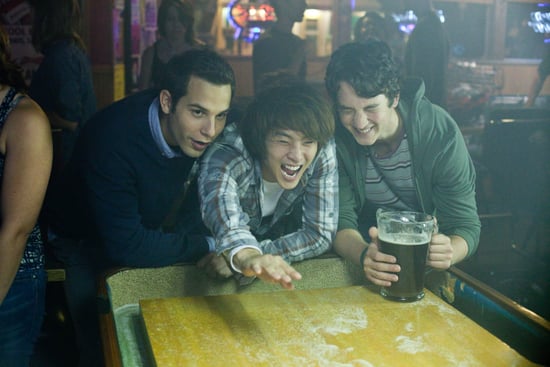 All three of the male leads are talented and fun to watch. The film showcases Justin Chon, Miles Teller, and Skylar Astin, better known as "that guy from Twilight," "that guy from Footloose," and "that guy from Pitch Perfect," respectively. But the fact that these guys are relatively unknown is a strength, since you don't already know what to expect from them. Chon is believable as Jeff Chang, the straight-man-gone-wild, and Astin is crush-worthy as Casey, the preppy (if not smug) goody-two-shoes of the group. But it's Teller who steals the show as the wisecracking slacker Miller. His relentless one-liners are reminiscent of Vince Vaughn and Jonah Hill, and his comedic timing is impeccable.
But . . . The rest of the characters are one-note caricatures that are kind of annoying. We're talking ridiculously overbearing parents, aggressive male cheerleaders, and stereotypical sorority girls — none of which seem even remotely realistic.
To see what else works about 21 and Over, just read more.
The first half of the movie is hilarious. The movie opens on Casey and Miller walking butt-naked (save for a couple of tube socks) across a campus, vowing to never speak of the last 24 hours again. Then, of course, we're taken back in time to the events leading up to said streaking. As we initially meet the characters and watch Jeff's 21st birthday get started, the plot glides along swiftly, marked by laugh-out-loud jokes and a healthy dose of college nostalgia.
But . . . Once Jeff passes out and his friends have to figure out where he lives, the film becomes too bogged down in its own hijinks, making for a less-fun second half that replaces smart comedy with slapstick and sight gags.
It injects a surprising amount of heart, and a bit of depth. I was pleasantly surprised to see that there's an emotional subplot beneath all the binge drinking: Jeff, Miller, and Casey are realizing how much they've grown apart since high school and what that means for their future as adults. This refreshing dose of honesty keeps the film grounded, especially in the midst of all the gross-out humor.
But . . . The move is still so reminiscent of films like Superbad and Harold and Kumar Go to White Castle (both of which also explore similar issues with friendship and growing up) that you can't help feeling like you've seen this movie before.
Source: Relativity Media