30 Minutes or Less Trailer
30 Minutes or Less Trailer: Jesse Eisenberg and Aziz Ansari Go From Pizza Delivery to Bank Robbery
Jesse Eisenberg is back at the hands of his Zombieland director, Ruben Fleischer, in 30 Minutes or Less, and this time he's got a few other funny guys by his side. Jesse stars as a 20-something slacker who works as a pizza guy and is held up during a routine delivery by a pair of amateur mob guys, Danny McBride and Nick Swardson. The gangsters strap a bomb to Jesse's chest and give him nine hours to rob a bank. So who does he go to for help? His estranged best friend, played by Aziz Ansari.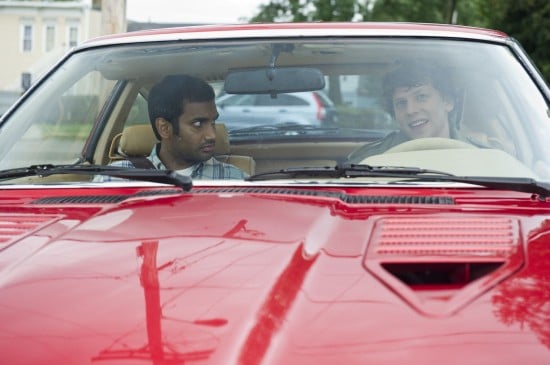 The first trailer is more focused on Jesse and Aziz, who is already stealing the show, than Nick and Danny, and there's barely a female in sight. 30 Minutes or Less is out on Aug. 12, so check out the expletive-ridden (though not nearly as much so as The Change-Up) preview below and let us know what you think!
To watch the red band trailer, just
.