This Is 40 Movie Review
This Is 40: Comedy at Its Most Painful
This Is 40, Judd Apatow's latest directorial effort, warns audiences about the dangers of blinking, meaning if you close your eyes you risk waking up decades later, wondering how you got to be so darn old. In a more literal sense, I did blink while watching the film. In fact, I full-on closed my eyes at the sight of Paul Rudd spread eagle with nothing but a strategically place hand mirror covering his man parts; I cringed while Pete (Rudd) and his wife, Debbie (Leslie Mann), screamed at each other for the umpteenth time; I yawned, I scoffed, but as with most of Apatow's projects, I also laughed and related to the conflicted characters.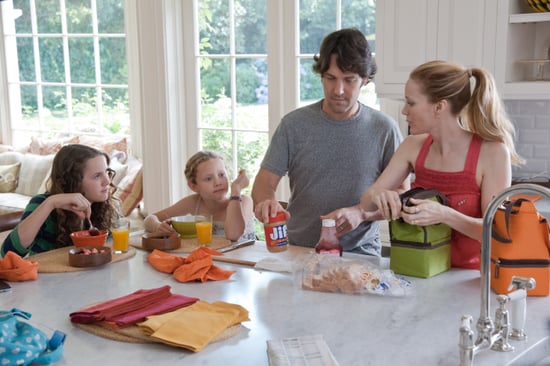 This movie is billed as the "sort-of sequel" to Knocked Up, but it's more like a spin-off, centering completely on Pete and Debbie's clan five years later. The kids (played by Apatow and Mann's real-life children, Maude and Iris Apatow), are growing up and acting out — if watching unhealthy amounts of Lost qualifies as acting out — and the whole family is hitting a palpable rough patch. The film's unflinching honesty about shifting family dynamics is one of its strengths, but it's also undoubtedly uncomfortable to watch as resentment curdles and touches every aspect of the characters' lives. To find out what else I thought, just keep reading.
Apatow, who also wrote and produced This Is 40, has an amazing talent for creating imperfect characters that you can't help but love. This time, however, Pete and Debbie are almost too narcissistic to root for. Pete's fledgling record label is drowning, but he refuses to tell Debbie. Meanwhile, Debbie is so immersed in recapturing her waning youth that she's not even aware of Pete's apparent distress. Sure, they're going through a bad period, but they're also deeply flawed.
Pete and Debbie are at odds for a majority of the movie, but they do come together in some hilarious scenes, like when they're high on pot cookies, or when they're confessing the ways they'd like to kill one another. Rudd and Mann are gifted comedic actors at heart, and they function best as a team. Among their common onscreen enemies: the mother of their kid's classmate, played by scene-stealer Melissa McCarthy, and their own children.
It's not all about Pete and Debbie; there is a rotating door of Apatow regulars and some new faces. Jason Segel provides some laughs as Debbie's personal trainer/spiritual guide, and Megan Fox and Charlyne Yi pop in as her peculiar shop employees. Albert Brooks and John Lithgow turn up as Pete and Debbie's fathers (respectively), each boasting their own set of deplorable issues. Despite their solid performances, their presence makes the audience feel a little like we're getting beaten over the head with an explanation for why these people are so messed up.
The whole film encompasses a week for this family, but with the amount of angst they — and we — go through, it feels like a lot longer. The reason why it's not unbearable is that while Pete and Debbie may not be the best people, they are the people that we sometimes feel like on the inside. They want to love but are afraid; they're not quite sure how to be grown-ups but they're trying their best. And, let's face it, midlife crises are a lot more comical in the Apatow universe.