50/50 Movie Review
50/50: It's OK to Laugh
50/50 doesn't really deserve the label "cancer comedy," because it's so much more than that. The film finds humor in the realities of an ordeal that's often treated with kid gloves on screen, but how ever many laughs 50/50 finds (and there are many), the script never mocks the subject matter. The film stars Joseph Gordon-Levitt as Adam, a guy in his late 20s who's otherwise healthy until the day he finds out he has a rare form of cancer and a 50 percent chance of survival. His best friend Kyle (Seth Rogen) supports him and provides a bit of comic relief after Adam is diagnosed and then undergoes chemotherapy and surgery.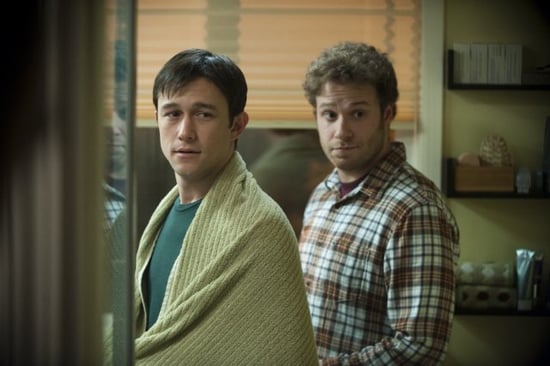 Rogen is one of the producers, but he has a more personal stake in the film — his friend Will Reiser wrote the screenplay based on his own experience with cancer several years ago. The end product is a film that's very honest, with elements that are funny, heartfelt, and sometimes scary. To find out why I loved 50/50, just keep reading.
The performances do justice to the witty script, and the casting of Gordon-Levitt is perfect. The actor handles serious elements with ease, a necessary skill to portray someone with cancer, but he never overacts. As Adam grows sicker and his in-control attitude transforms into that of a man who is coming face to face with his mortality, it's impressive to watch Gordon-Levitt shift so subtly. And even though he's often playing the straight man to Rogen's ham, he also has plenty of opportunity to be funny, and he nails some of the biggest laughs with a dry sense of humor.
Gordon-Levitt and Rogen have great chemistry as friends, but the movie is careful not to steer it too far into a buddy comedy. Their banter is funny, but their best scenes are those in which they deal with the more real aspects of cancer, like when Adam first tells Kyle about his diagnosis. Though Rogen plays a version of himself that we've seen before, he complements Gordon-Levitt nicely and steps aside so he can carry the weight of the movie.
The rest of the film's casting is similarly strong; as Adam's flighty girlfriend, Bryce Dallas Howard does so much with a role that could be entirely unsympathetic. Instead, Howard represents the complicated, and undoubtedly common, reaction of someone who doesn't know how to cope — or if she even wants to. You want to hate her, but Howard's portrayal is so sincere that it's hard. On the other end of the reaction spectrum is Anna Kendrick, who plays the therapist Adam is assigned to and doesn't think he needs, and she pulls off the dewy, inexperienced quality her character requires. But while her office sessions with Adam are among the most emotional, Gordon-Levitt outshines Kendrick in those scenes.
50/50's biggest feat is in how well the tone is executed. It's not a raunchy comedy that just uses cancer as a punchline; instead of an overuse of jokes about the illness, what we get is a nuanced illumination of how ironic, awkward, and silly the situations that accompany a cancer diagnosis can be. It's a delicate balance that you know it's working when you're laughing and crying in the same sitting.