50/50 and Paranormal Activity 3 DVD Release Date
What to Rent: New DVDs This Week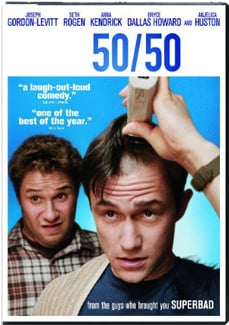 Joseph Gordon-Levitt stars in this film as a 27-year-old man who finds himself diagnosed with a rare form of cancer. As he struggles with his mortality, his best friend (Seth Rogen) helps him to face the reality of his situation, which is where many of the film's laughs come from. With a powerful performance by Gordon-Levitt, the movie is a huge success, especially considering that it manages to find so much humor in a subject that's rarely portrayed as funny. DVD extras include deleted scenes, featurettes and a commentary track with Rogen and director Jonathan Levine.

93%
Hugh Jackman plays a dad and former boxer in this futuristic action flick about boxing robots. When his estranged son shows up and wants to help assemble a robot to fight in the ring, father and son bond. While there are some exciting sequences, the family-friendly flick is also pretty predictable and cheesy. Extras on the DVD include a blooper real and two featurettes.
59%
See one more new release after the jump.
In this prequel to the wildly successful horror series, we go back 18 years before the events of the first movie. With Katie and her sister as kids, we meet them and learn how they come to be haunted. DVD extras include an unrated version of the film with footage not seen in theaters, plus a series of "Lost Tapes" with more creepy footage.

66%