666 Park Avenue TV Show TCA Panel
5 Things You Should Know About 666 Park Avenue
ABC is bringing a new "supernatural soap" to prime time with 666 Park Avenue. The series stars plenty of familiar faces from the network, including Lost's Terry O'Quinn, Brothers and Sisters' Dave Annable, Grey's Anatomy's Rachael Taylor, and Vanessa Williams, who is fresh off her stint on Desperate Housewives. Those actors were joined by the show's executive producers at the TCA to talk about their creepy new show, which follows the residents of a swanky Park Avenue building called The Drake.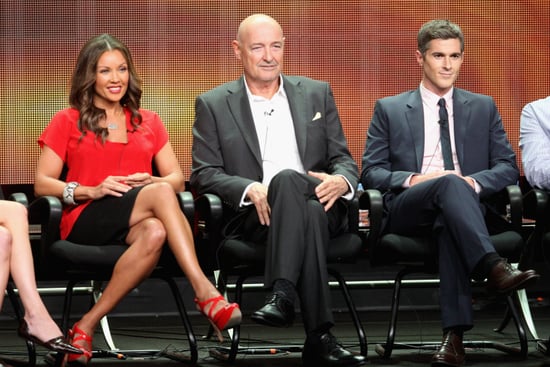 Annable and Taylor star as the wide-eyed new tenants, who are hired by Gavin (O'Quinn) and Olivia (Williams) to manage the building. Little do they know that living in splendor comes with a price, which their neighbors are beginning to learn as dark things start happening to them. There are plenty of questions raised in the pilot (and just in the promos for the show), so here are five things you should know about 666 Park Avenue.
Don't expect much speak of the devil. The pilot suggests that O'Quinn's character Gavin could be the devil, based on the deals he strikes with his tenants (and the general creepiness of the building), but you won't hear any overt mentions of Satan himself. Executive producer David Wilcox said that the show's title is the strongest allusion to the devil, and he "guaranteed" that Olivia and Gavin are not what we expect.
There won't be (too much) blood. Given the show's home on network TV, 666 Park Avenue is more of a psychological thriller than a gore-fest. Wilcox mentioned that they're going for a Hitchcock vibe, hoping to get under audiences' skin by creating stories (not images) that stay with you. He said there will still be "shocking, visceral moments," but it will mostly be driven by suspense.
This isn't American Horror Story. The producers already assured us that Annable and Taylor will be back if the show is picked up for a second season, which means it isn't likely that their characters will be killed off immediately (though I guess it's possible they could return as ghosts). Their characters may also be physically unable to leave the building, as Wilcox teased that the contract they sign in the pilot is "more than just a lease."
To see what else you should know, including possible spoilers, just read more.
There's likely a Rosemary's baby on the way. In addition to Hitchcock movies, the producers gave credit to The Shining, The Omen, Blue Velvet, and the work of Stephen King. Given that Henry and Jane are a young couple, the panel was asked if we can expect a doomed pregnancy à la Rosemary's Baby, and Wilcox didn't even play coy, saying, "That's probably part of the plan."
New York City will be alive and well in the story lines. The series may be centered on The Drake, but the drama won't be confined to the apartment building. Executive producer Matthew Miller said each episode will have a little bit of Park Avenue and a little bit of 666, and the show is being shot right in Manhattan. Annable and Taylor gushed about how much they love working in NYC, while O'Quinn joked that it's difficult to stay focused when people on buses are yelling "Hey, Locke!" at you.