7 Things We Learned About The Mindy Project at PaleyFest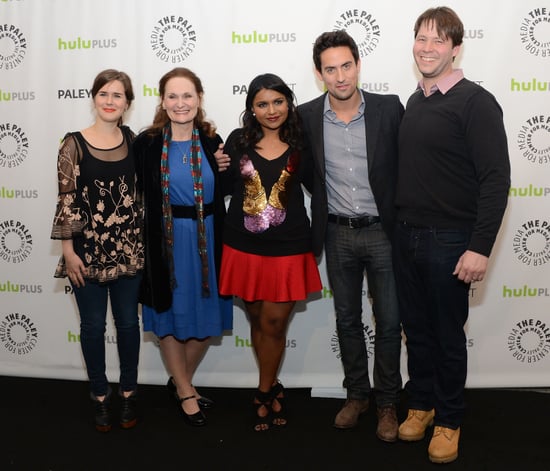 Last night, the cast of The Mindy Project teamed up at PaleyFest to preview next week's episode for a crowd of fans and reporters and to talk about working on the show. It was just announced that the series was picked up for a second season, and Mindy Kaling, Chris Messina, Ike Barinholtz, Ed Weeks, and Beth Grant talked about what we might learn about their characters in the future — especially when it comes to their love lives. They also weighed in on new characters they hope to bring to the series, their favorite romantic comedies, and Mindy's return to The Office. Here are seven things we learned about The Mindy Project and its cast at last night's panel and screening:
Chris wants Mindy and Danny to kiss: The sexual tension between Danny and Mindy is one topic fans couldn't wait to dig into. Chris admitted that while it's fun to watch the "will they, won't they" dynamic between the two of them, he hopes something physical happens between the characters. "I'd like to see them kiss, at least."
Mindy will be on the series finale of The Office: Mindy's past on the TV comedy came up several times during the night, and she revealed that she will be returning to Dunder Mifflin one last time before the show says goodbye. "I'm going back to shoot the finale in a couple days, which is really exciting."
They've already written a character for Danny McBride: Ike previously worked with Danny on Eastbound and Down and said that Mindy already dreamed up a role for him as an "aggro" gay friend of hers. Ike described her saying: "I wanna have a gay friend who is just, like, not the cute, fun sidekick. The guy who, when we go to brunch, we get kicked out for being gross . . . like a bear." Mindy added: "He's like six foot, four inches and fat . . . super into Chris. He looks at Chris like, 'I will destroy him.'"
Ed had a memorable audition for the show: "My American accent left something to be desired, so I decided to go in and try it British," he said. "And I think, I threw a condom at the casting director, and Mindy said, 'That was hilarious,' in a very straight-faced way."
Mindy's favorite romantic comedy might be Much Ado About Nothing: When asked about her favorite films, Mindy said: "It's embarrassing, because maybe two out of the three or four romantic comedies that I really love, Chris Messina is in. You've Got Mail and Vicky Cristina Barcelona," she said. "But you know, I really loved Much Ado About Nothing, the Kenneth Branagh, Emma Thompson version."
B.J. Novak will direct more episodes: "He's a great friend to the show," Mindy said. "He finished an episode last week called 'Santa Fe.'" Ike and Ed added that their characters get naked in a sweat lodge on the episode, which Ike compared to watching a handsome English man doing a scene with a seal.
We'll be seeing more of Beverly: Beth, who plays Beverly, was just added as a series regular. The actress said that we'll get a chance to find out more about her character's past, including her love life, in upcoming episodes. "Well, I just learned in the new script that I've had several different boyfriends of many different religions," she said. "I'm quite excited about that."