90210 "Benefit of the Doubt" Recap
90210 "Benefit of the Doubt": Most Scandalous Moments
Life has a funny way of working itself out for the 90210 kids, who seem to fall face first into money and fame. Between Liam landing a modeling gig without so much as trying, and Dixon magically booking a guest spot on Billy Bush's radio shows, it was just another typical week in Beverly Hills. Even the blacklisted Adrianna found herself back in the limelight after a long hiatus from performing.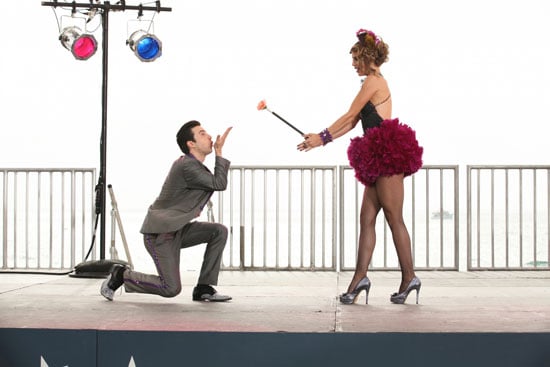 Annie's luck is also looking up when she finds a wealthy, new friend — or is he a client? Let's discuss when you keep reading.
Liam becomes a male model. When slinging drinks fails to earn Liam enough to live on, he decides to take a modeling agent up on her offer for a few jobs. Modeling isn't exactly new to Liam — remember when he stood shirtless in a boutique window to make some extra cash during high school and was so embarrassed he quit? He doesn't fare much better this time around, refusing to drop his pants for his first shoot and earning the nickname "droopy drawers" on the set. He complains when he makes $200 for about a minute's worth of work, which includes the saddest attempt to raise the roof I've ever seen. When the client ends up using a photo of him for a billboard, he's shocked to receive a check for $10,000.
Max dumps Naomi. Ivy decides to throw a benefit talent show in an attempt to raise money for an experimental treatment for Raj. Naomi becomes hellbent on winning when she discovers Austin's new girlfriend Kellie Pickler Sally is competing for first place. She ropes Max into performing a magic show with her, but when he figures out Naomi's motivations, he pulls an actual disappearing act when he dumps her and leaves her standing alone on the beach. The kicker? Sally is actually Austin's cousin.
Annie falls for an older man. An overheated car and a parking ticket are all the excuses Annie needs to book another escorting gig, but she gets more than a paycheck when she falls for her significantly older client Patrick. Apparently, a whopping two dates is all it takes for the wealthy tech mogul to make Annie feel "alive." The two spend the night together with Annie refusing to accept any money, but when Patrick makes a sizable donation towards Raj's benefit in her name, it's clear Annie feels a transaction has taken place. Was anyone else more grossed out by the fact that the guy looked older than Annie's father? I literally cringed every time they embraced.
Dixon's almost famous. Despite the fact that his demo has only been on Cobra Starship's website for a "second," Dixon somehow manages to book a spot on Billy Bush's radio show and headline Raj's benefit concert. People even start chanting his name, but he's late taking the stage due to an ADD drug haze that causes him to have a nosebleed. Adrianna swoops in to save the day — perhaps a little too readily for someone who claims she panics every time she's tried to sing after her song-stealing scandal — and performs new material. Could this signal a comeback for Ade?
Navid turns himself into the cops. When Navid discovers that Leila is still seeing bad boy Darius (and that borrowing money from his uncle and losing Silver was all in vain), he hauls his uncle's stolen cars out of Shirazi Studios and kicks him out of his life. (Now if only Navid would do the same with that bratty sister of his.) When his uncle tries to coerce him back into the shady business by threatening Silver, Navid turns himself into the police, who claim they can't help him unless he brings them hard evidence. Navid agrees to go under cover to expose his uncle, but he can't tell anyone — including Silver — about his mission, which I'm sure will ultimately harm rather than help his relationship her.
How did you feel about this week's episode? Are you upset Naomi and Max are over, or would you rather see her with the cowboy? Did you enjoy seeing Adrianna redeem herself? Sound off in the comments!