90210 Recap "All About a Boy"
90210 "All About a Boy": Most Scandalous Moments
It seems that everyone is after the kids of 90210 this week. First up, Emily's scheming continues, as she plots to take down Annie by ruining her audition for a local play. Naomi also deals with an untrustworthy Guru Sona, whose real character comes to light. And then there's Teddy, who receives an anonymous blackmail note in his locker.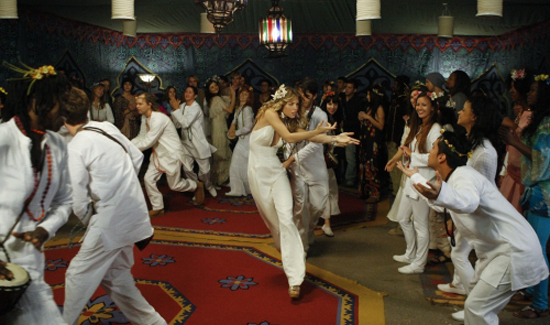 The good news: Navid calls it quits with Adrianna (about time!), but she may be onto his fling with Silver. Uh-oh. Let's recap the night's drama when you read more.
Naomi falls victim to Guru Sona. Naomi's never struck me as a follower type, but she gets completely wrapped in Guru Sona's fan club. She comes to school wearing tie-dye, throws a party in Guru Sona's honor, and donates money for a new wellness center. But after the guru gives Naomi a spiel about Naomi being the group's "golden fruit" (AKA the chosen one), Naomi finds out that it's the exact same speech she gave another girl. Con artist! Even though Naomi calls her out in front of everyone, Guru Sona just ignores the claims. And unfortunately, it looks like Naomi's generous donation is already gone.
Teddy receives a blackmail letter asking for $50,000. After he receives the threat to spill his secret, Teddy panics and decides to offer up the money, until Silver convinces him otherwise. She puts two and two together and figures out that Teddy and Ian are an item, so she assures him that it's okay to tell the truth. Holding hands with Ian, Teddy approaches his friends at Guru Sona's party, and they handle the news fairly well (even Dixon). Teddy leaves on a total high, happy to be out in the open. But when Ian makes a remark about the blackmail letter, Teddy realizes that Ian is the blackmailer! He breaks it off with Ian right then, which is probably for the best. I like Ian, but blackmailing for love?
Emily purposely foils Annie's audition for a local play. When Annie's internship boss offers her the chance to read for The Importance of Being Earnest, Annie is ecstatic. But everything quickly goes downhill once Emily shows up to the tryouts. Moments before Annie's about to go on stage, Emily tells her cousin that her mother is dating Mr. Matthews. Annie is so distracted over the news that she completely forgets her lines. If that isn't bad enough, Emily then auditions for the part herself — and she gets it! OK, Emily has got to go. I'm already annoyed.
Navid breaks up with Adrianna! When Navid discovers that Adrianna isn't actually looking to get her daughter back (she's more interested in her new reality TV show), he promptly kicks her to the curb calling her a slew of derogatory adjectives. Huzzah! She's devastated by the breakup of course, and makes every last-ditch effort to win Navid back. She tries to talk to him at Guru Sona's party, and when that doesn't work, she surprises him at his house with red lingerie — while Silver is there. Right before Adrianna can enter the room, Silver runs to the closet for cover and leaves behind evidence: an earring. Adrianna finds it, realizes that Navid is seeing someone (though she hasn't figured out who just yet), and relays her new clue to Silver who keeps her mouth shut.
Ivy tokes up. After her near-death experience surfing, Ivy turns to Guru Sona to overcome her fear of the water. The Guru gives her a book on meditation, which Ivy tries — but it doesn't seem to be working for her. What does: pot. Ivy's new warm-up ritual apparently involves getting stoned, and she shows up to Guru Sona's party baked out of her mind. Are the writers making Ivy addicted to marijuana? Seriously?
Are you bummed to see Teddy and Ian split so soon? How long do you think it'll take until Adrianna realizes that Silver is the mystery woman? Weigh in below or check out the 90210 Superfans group in the community!