90210 Recap "The Bachelors"
90210 "The Bachelors": Most Scandalous Moments
I have to say it: 90210 is on a hot streak (and I don't just mean the shirtless guys dressed as firemen). This week's episode is bursting at the seams with juicy drama, a few expected conflicts, and a very jaw-dropping cliffhanger that I absolutely did not see coming.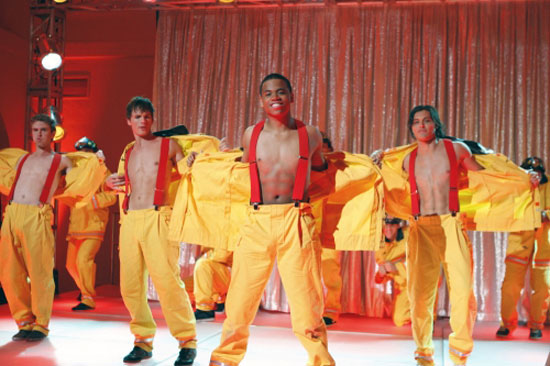 As Silver is planning a breast cancer benefit, she rounds up her best guy friends for a bachelor auction, but each of the dudes is having his own relationship issues. Liam can't shake Annie, Dixon and Ivy get ready to go all the way, and Teddy's still grappling with his own sexuality. Let's break it down when you read more.
Silver spills Naomi's secret. After ODing on sleeping pills, Naomi wakes up in the hospital with Silver at her bedside. After declaring that she looks like a

Cullen

, Naomi makes Silver swear she won't tell anyone that Mr. Cannon raped her. We all know that this isn't going to happen, but Silver tries to keep mum as Annie berates Naomi for her obnoxious behavior at her birthday party. To make Annie and Adrianna realize why they need to forgive Naomi, Silver tells them the truth, and they band together with Naomi to bring Mr. Cannon down. I can't wait to see what kind of scheme they devise, since there's no way this show is letting Mr. Cannon get off easy.
Sasha drops a huge bomb on Dixon. Just as Dixon's in the middle of waxing poetical about being the flyest turtle in town, Ivy tells him that she's ready to do the deed. She seems pretty unenthusiastic about the sex date, and before they can pencil it in, Sasha shows up on campus to see Dixon. Though Dixon blows off Sasha repeatedly (she even tries to buy him at the bachelor auction), he eventually gives in. At first I thought maybe she was pregnant all along but her secret is even more shocking: she's HIV positive. I can't imagine that Dixon will be too, but of course this should make for a huge obstacle in taking Ivy's V-card. Also, it's definitely going to be bad for business that Oscar saw Sasha and Dixon walk off together. My prediction: Ivy's gonna end up losing it to her old Australian buddy.
Teddy loses his temper and drops the F-word. Following his same-sex romp last week, Teddy's clearly all wound up trying to keep the secret. When Silver hires Ian to teach the guys a dance for the bachelor auction, Teddy grows agitated as his one night stand tries to help him loosen up and shake his booty. Eventually he explodes and calls Ian a gay slur in front of all the guys (I have to admit, I gasped at his callous comment). Silver calls him a homophobic jerk and dumps him — and Teddy takes his anger out on Ian by pummeling him.
Liam's still got a burning love for Annie. While Annie's busy getting googly eyed over Charlie and reading Shakespeare with him, Liam's determined to win her back. Crashing at the Wilsons, he pulls out all the stops to impress Annie: sad puppy dog eyes, cooking her dinner, even giving her a nice long look at what she's missing (all six packs of it). He almost succeeds until Charlie walks in, and the half brothers realize they're competing for the same girl. When Charlie tells Annie that he screwed Liam over when they were kids, Annie feels sympathy for Liam and goes to tell him that she's dumping Charlie. Unfortunately, it's too late: Liam's angry about his brother's return and tells Annie that he doesn't want her anymore. I hope this doesn't mean we have to go back to Charlie and Annie's story time. Alas! Alack! Groan!
Victor blackmails Adrianna. Now that Javier's uncle knows Adrianna's song-stealing secret, he's going to exploit his "money maker" as much as he can. He instantly steps up as her manager, demands 50% 80% of her earnings, and orders her to bail on singing for free at Silver's breast cancer benefit. Adrianna awkwardly asks Silver for a $10,000 performance fee and Silver laughs it off. (Couldn't there have been a more diplomatic way to bow out?) Navid tries to intervene when Victor makes his umpteenth misogynistic comment about Adrianna's wardrobe, but she's clearly sitting on this secret. Luckily the whole thing is tied up with a big bow when Adrianna uses her earnings to buy Navid in the auction, patching things up with both her boyfriend and her best friend — for now. (Side note: how sad was it when nobody would bid on Navid?)
Annie offers Katherine her eggs. Raise your hand if you saw this one coming. Last week I wondered how long it would be before one of Annie's family members runs into financial trouble, and this week Debbie's in dire straits. She can't find a job, her charity check bounced, and Mr. Wilson has to take a pay cut at his new job. Annie instantly calls Katherine and offers her eggs in exchange for $20,000. How's she going to explain this quick fix to her mom?
Did you love this week's episode as much as I did? Were you more shocked by Teddy's outburst or Sasha's big secret? Let's chat about it, and be sure to stop by the 90210 Superfans group in the Buzz Community!