90210 Recap "Best Lei'd Plans"
90210, "Best Lei'd Plans": Most Scandalous Moments
It seems like 90210 has a weight lifted off its shoulders with Mr. Cannon gone, which means it's time to focus on the important things. You know, like Dixon eating pork and Naomi pretending to know how to surf. It wasn't all fluff though: Teddy takes a bold step towards coming out of the closet, Navid and Silver get even closer, and Oscar tries to make amends with Ivy.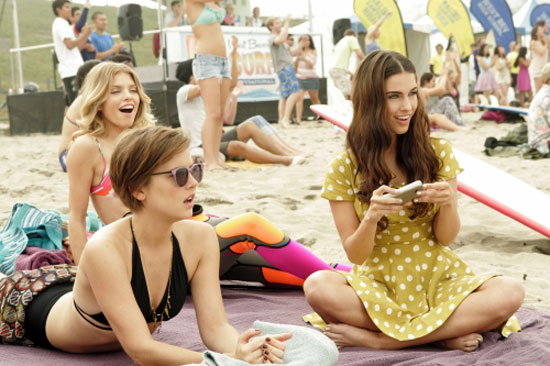 Really, though, this episode is just a continuation of the Adrianna show, and now she's getting worse than ever. She's managing to irritate every single one of our friends (and us viewers), and is pretty much driving her boyfriend right into the arms of another girl. I'm getting ahead of myself here, so let's break it down after the jump.
Ashton Kutcher starts following Adrianna on Twitter (OMG!). OK, so that's not really a highlight of the episode, but it's a good example of how Ade's fame is getting out of hand. The budding pop star gets an advance from her record company, so she throws a celebratory brunch with all of her "normal, non-famous friends." (I'm surprised she doesn't just refer to them as the "little people.") Unfortunately she's too busy texting and blowing kisses to the paparazzi to actually catch up with her friends, and it pushes Navid to tell her off on how self-absorbed she's become. Adrianna makes it up to him with a romantic dinner on the beach but . . .
Navid tells Silver he feels something for her. The episode opens with a "morning after" scene between Navid and Silver, but it turns out they just stayed up all night talking. Clearly there's something there though, and when Navid shows up at the luau, he seems so much happier with Silver than with Adrianna. He even tells Silver that he's been having feelings for her right before he's swept away by Ade. Since none of the girls on this show seem to mind their friends dating their exes, I say Silver should go for it. Adrianna can find a new, more famous boyfriend, right?
Teddy makes a move on Ian. Teddy tells Ian that he's just "confused," not gay, but by the end of the episode he seems to be changing his tune a bit. Despite some ostentatious flirting from Silver (and even a kiss!), Teddy rejects her and admits that he has feelings for someone else. After giving Ian a long gaze, he makes a move in a beach hut. I doubt Teddy will be going public with his sexuality any time soon, but at least he's taking a step in the right direction.
Debbie and Ryan take in some afternoon delight, public restroom-style. After a semi-awkward run-in at West Bev, Ryan and Debbie agree that while their tryst was fun, they should probably stay away from either. At Annie and Dixon's urging, Debbie agrees to dabble in online dating, but of course her first date is pretty awkward. Once she sees Ryan lurking around the restaurant, she excuses herself to go to the restroom — and you just know what's about to happen next. She tells Ryan about the date, he admits he's slightly jealous, and boom! They're going at it like teenagers. I totally support these two despite the obvious problems, and I can't wait to see how Annie and Dixon feel when they catch them in the act.
Liam bonds with Laura, then gets beaten up. While driving Miss Laura, Liam snaps and tells his admirer that he's not into her and never will be. Naturally she bursts into tears, and Liam immediately softens to her. She admits that she's still hung up on her ex — a juvenile delinquent who just happens to show up at the rich kids' luau party (why?). To help Laura save face, Liam pretends to be her boyfriend. Unfortunately, Dax is not amused, and he and his friends beat Liam to a pulp in the parking lot. Do you think Liam is developing real feelings for Laura? Will he and Dax continue to spar? (Hey, maybe he can reconcile with his brother and get someone on his side for a change.)
How'd you feel about this week's episode? Do you think Naomi and Oscar will start dating seriously? Will Ivy ever forgive her mother? Sound off in the comments or check out the 90210 Superfans group in community.
Photo courtesy of The CW