90210 Recap "Blue Naomi"
90210 "Blue Naomi": Most Scandalous Moments
Did 90210 have you fooled? This week, the writers kept a few tricks up their sleeves with plot points that I didn't necessarily see coming — even though one of the night's big reveals was totally recycled from season two! Is the show really running out of storylines already?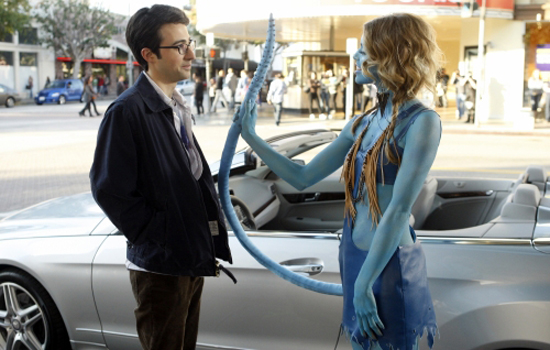 Emily's putting the moves on Liam, and the guy is actually reciprocating. She also has apparently won over all of Annie's friends, so Annie is left out once again. But Annie's not the only one licking the wounds of rejection. Naomi continues to woo Max with her usual tactics (trench coats and lingerie), but the cute nerd isn't having it. Ivy also gets thrown for a loop when her new guy Raj reveals a shocking secret. All that plus, Snoop Dogg! Let's recap the night's biggest jaw-dropping surprises when you
.
Naomi pulls the ultimate romantic gesture: she dresses like a Na'vi. There is nothing Naomi won't do to prove a point. In this case, she refuses to believe that new crush Max isn't attracted to her, even after he calls her stuck up and shallow. After multiple attempts involving school girl outfits and trench coats, she decides to get inside his geeky mind by painting herself blue and meeting him at a screening of Avatar. Max's friends have a field day poking fun of Naomi's outfit, so when she storms out hurt, Max runs after her to make her feel better. They share a kiss and agree to keep their little flirtation top secret (hmm, remind you of another TV couple?).
Emily gets a taste of her own medicine. Ding-dong, the witch is dead! Okay, she's not dead, but Emily is shown the door, which is enough for me. Everything seems to be going her way for the majority of the episode; Liam dumps Annie and agrees to go on a date with Emily, plus she gets friendly with Silver, Adrianna, and Naomi. But things are going a little too smoothly. When Emily invites Liam in after their night out, he gets her to spew nasty remarks about the girls, and surprise — they're in the next room. Emily's caught red-handed thanks to Annie and Liam's scheme, and she packs her bags to return home. Here's hoping this is the last we see of her.
Ivy is going from burnout to dropout. Ivy's grades are slipping seeing as how she's always stoned at school. But you know it's really bad when even her new pothead boyfriend Raj thinks she needs to rein it in. He tells her to cut it out, which she just shrugs off until he really gives her a buzzkill: Raj reveals that he smokes because of his chemo . . . for leukemia. . . and he only has a handful of years to live. Wow, I did not see that coming. And just when I was getting to really like the guy.
Dixon signs Snoop Dogg as a new client. Navid continues to bring high caliber talent to Shirazi Studios. He and Dixon decide to officially acknowledge their partnership (in other words, Dixon gets a paycheck). Dixon's first order of business: take Navid's car to the wash. There he bumps into Snoop Dogg, and after fawning over the rapper (and singing some "Gin and Juice"), Dixon gets invited to take a drive with his idol. As a result of their chance meeting, he locks in yet another deal for the production company, but not before Navid yells at him for disappearing for the day. I don't know how this boss-employee partnership is going to work out between the two friends, but how many more guest star cameos do you think will show up?
Silver's naked all over school again. Honestly, you would think after Silver's sex tape, a text of her topless wouldn't be such a big to-do. Adrianna pushes Silver into admitting that she's cheating on Navid by convincing the girls that she thinks Lila is the culprit. Adrianna snaps a photo of Lila in the girls' locker room without a shirt on, but when she goes to hit send, Silver admits the truth to save Lila from embarrassment. Unfortunately, it doesn't save Silver. Adrianna immediately sends a photo of Silver topless, which would be a big deal — if we hadn't already seen this happen before to Annie.
Did you know Liam was out to get Emily all along? Were you surprised by Raj's reveal? Sound off below or check out the 90210 Superfans group in the community!
Photo courtesy of The CW