90210 Recap "The Enchanted Donkey"
90210 "The Enchanted Donkey": Most Scandalous Moments
It's Spring break on 90210 this week, but Spring breakdown is more like it. The gang hops on a private jet (you know, because that happens) to Cabo for some fun in the sun, but they get a whole lot more drama than they bargained for.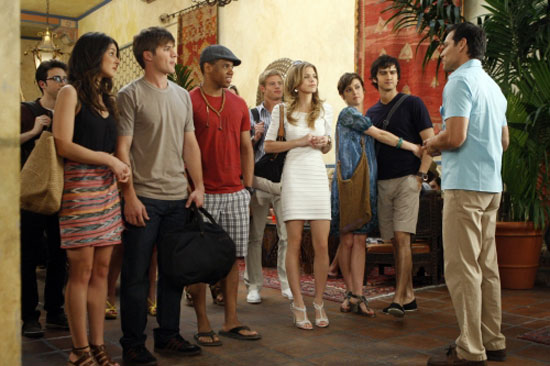 The Silver/Adrianna/Navid love triangle takes a very ugly turn, while Teddy, Ivy, and Naomi make some pretty big revelations about their own current love lives. Oh, and Annie annoys pretty much everyone until a monkey bite shuts her up. Ready for the most scandalous moments? Just
.
Silver and Adrianna take their fight to a new level.
When we last saw Silver and Adrianna, Ade had sent a mass text photo of Silver in her birthday suit to the entire school. Naturally, things haven't exactly cooled off between them, and their feud kicks into high gear on Spring break. Silver starts the childish games by faking sex noises to torture Adrianna, Ade retaliates by swapping Silver's bottled water for tap. I gotta say, considering that Silver started the whole mess by hooking up with her friend's boyfriend, she's not exactly trying to keep her relationship under wraps. You'd think someone so "torn up inside" wouldn't want to be flaunting things all over town. No matter though, because the whole thing escalates into a full-on cat fight by the pool, forcing Teddy and Navid to dive in to their rescue.
Max and Naomi get hot and heavy. Naomi doesn't waste any time getting her nerdy new guy into the sack, but it turns out that she's in for a surprise — he's actually already slept with his fair share of band geeks. (I'm still having a hard time believing that young Max has already slept with seven ladies, but whatever.) Since the lovebirds aren't ready to take their relationship public, Naomi carts Max down to Mexico as her "tutor," which really is just an excuse for them to sneak off together. That is, until Max realizes that Naomi is failing for real and vows to help her. One study session later and voilà! Naomi is a math whiz and the whole trip brings the two closer together.
Teddy hooks up with his first crush. When Teddy runs into Marco again, he turns off the cute soccer player by trying to convince him to hang out while his parents are out of town (cause we all know what that means). As it turns out, Marco isn't that kind of guy, so Teddy heads to Mexico with high hopes of a hot hookup. He gets his one-night stand from his former roommate who — surprise! — is also gay, but — surprise again! — he's already in a relationship. Bummed, Teddy comes to the conclusion that he's ready for something more serious, and tries to give it another go with Marco.
Adrianna starts playing with fire.
After Adrianna and Silver come to blows, the girls calm down and try to rebuild their friendship. Unfortunately, Silver doesn't want to meet Ade's terms of forgiveness: breaking up with Navid. It's actually not an unreasonable request from Adrianna (I'm not sure I'd want to be BFF with my boyfriend's new girl either), but Silver admits that she's falling in love with Navid. Ouch. Back at home, Adrianna comes by Silver's place and says she's changed her mind and wants to be friends anyway. Silver has barely pulled away from the hug before Adrianna is in her bathroom, swapping out her friend's bipolar meds with placebos. Adrianna has done some obnoxious things before, but this one takes the cake — even crazy Emily never stooped this low.
Are you glad to have 90210 back? Think Ivy can stay off the "drogas?" Are you as worried about Silver as I am? Sound off!
Photo courtesy of The CW