90210 Recap "It's Getting Hot in Here"
90210 "It's Getting Hot in Here": Most Scandalous Moments
On this week's 90210, the girls head to a yoga retreat. Naomi, Adrianna, Silver, Annie, and cousin Emily pack their bags for a secluded getaway full of reflection and downward-facing dog. It can't all be Zen though; despite the mellow locale, each of the characters encounters her own share of drama. Annie is fending off Emily who is out to turn Annie's friends against her, Silver is grappling with her feelings for Navid, and Adrianna opens up about the baby she gave up for adoption. Surprisingly, the one person who seems the most chill is Naomi.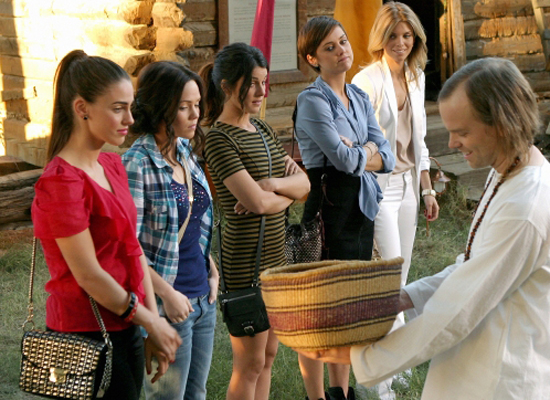 Back home, Debbie tries to get some alone time with Ryan, until Dixon ruins their romantic evening by unexpectedly showing up. They'll have to keep their relationship under wraps for now, but one of the show's couples does get to bring their love out in the open. Finally! To find out who and to get the full rundown of the night's events, just
.
Emily schemes against Annie. She may be from Kansas, but don't underestimate the bubbly, good-natured Emily. This week, she dyes her hair brunette, which makes Annie freak out. She complains to Debbie that Emily's trying to "single white female" her (just like I said!), but Emily overhears, which only ups the ante. As a result, Emily starts stooping to new lows to make Annie's life a living hell. First, she tells Naomi and Adrianna lies to turn them against Annie, and then she spies Debbie and Ryan making out. Who knows what she'll do with that info. Annie, beware.
Silver and Navid get busy. The sexual tension heats up in Silver and Navid's illicit affair. She tells him that they can't keep progressing with their relationship because of Adrianna; however, when Navid shows up at the yoga retreat — and Silver's feeling all hot and bothered (literally) — she has her way with him in a tent. But, when Adrianna spots Navid later on, she runs up to kiss her boyfriend and all is like usual. Enough already!
Charlie finds out about Liam and Annie. One couple that does get some resolution is Liam and Annie. She gently calls it quits with Charlie, but he's still suspicious about whether there's another guy involved. So when Liam's phone beeps signaling a text, Charlie takes a quick peek to see whom it's from. It's Annie, of course. He replies as Liam, telling her to come over the next day. When she does, Liam's there waiting. Charlie's gone off to Paris for a semester abroad, so the two lovebirds can finally be together — with Charlie's blessing, no less. I did a little jig over this happy turn of events. Might as well enjoy it while it lasts though; you just know that Emily will be mucking stuff up for them soon.
Adrianna uses her baby story to make money. I would take Charlie back if it meant getting rid of Adrianna. This week, she acts like a brat at the yoga retreat, until the girls call her out on her awful behavior (tell it, Naomi and Silver!). You would think the dose of tough love would do some good, and it does for a hot second. Adrianna comes clean about why she's so upset about her failed fame: if she gave her child up for adoption in order to create a great life for herself, then what was it all for? I actually felt bad for Adrianna — that is, until she leaves the retreat. She calls a reporter offering money for her story, and says she has something to increase the price tag: juicy scoop on the baby she gave away. Furthermore, she tells him that she's trying to get the child back. Ugh! How can the writers make her so unlikeable?
Naomi gets lost in the wilderness. Well not exactly, but it may be the end of the old Naomi, as we know her. Even though she complains about the retreat's atmosphere, Naomi actually takes a lot away from the excursion. She tells the yoga guru that she wants to use her rape experience to actually give back to other women. It's a wonderful thought, but it may not be as good as it seems. Did you see next week's preview? Looks like Naomi may venture into the deep end with this new spiritual enlightenment.
What did you think of the episode? Are you as happy for Annie and Liam as I am? Weigh in below or check out the 90210 Superfans group in the community.
Photo courtesy of The CW