90210 Recap "It's The Great Masquerade, Naomi Clark"
90210 "It's the Great Masquerade, Naomi Clark": Most Scandalous Moments
Halloween comes a bit late to 90210, as the gang gets outfitted for Naomi's big masquerade party. As usual, there's plenty of issues being masked this week (see what I did there?), from Dixon's drug problem to Holly's true intentions.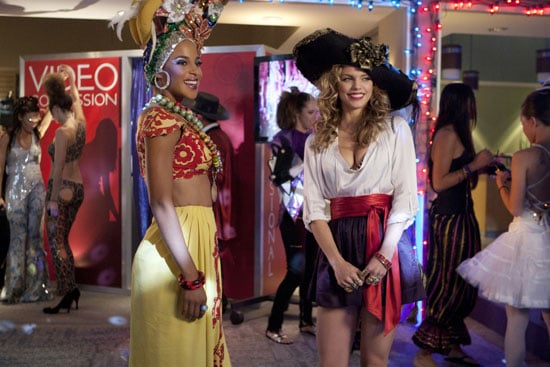 It's not an episode that's heavy on major moments, but there's definitely some relationship drama as a few couples grow closer together, while Silver and Navid drift further apart. Let's break it down when you
.
Silver and Navid call it quits. Silver decides to give Navid one last chance, but Navid's new undercover plan gets in the way of the reunion. When the happy couple are all ready to hit the masquerade dressed as a hot dog and bun, Navid gets a call from his uncle and skips the bash. As Navid is begging to get back in the car-stealing business (so he can get some proof), Silver catches him in the act. In an effort to prove himself to his uncle, Navid dumps Silver on the spot.
Adrianna puts Dixon to the test. After a long day of getting harassed for being a pop-star-has-been, Adrianna takes it upon herself to check on Dixon and his drug addiction. Though Dixon pushes back when she starts after-school specialing him, Adrianna makes him prove his innocence by handcuffing herself to him for 24 hours. Things get a little touchy-feely when they're telling secrets before bed (though really I'm more interested in how they managed to go to the bathroom). Ade is proud when Dixon manages to stay sober for a full day, but the second she releases him, he finds the closest drug dealer he can find. I was convinced that Liam and Ade were on the fast track to coupledom, but now it looks like Dixon has a fighting chance. Who would you rather see her with?
Holly gets Naomi kicked off Greek Council. In order to get CU recognized for being a party school, Naomi decides to plan a huge masquerade party to win an online contest. She begrudgingly recruits the help of her rival Holly, and as soon as Holly mentions "revenge," you know she's not talking about some brats from cheer camp. Sure enough, Holly manipulates the confessional booth at the party to broadcast Naomi's love note to Austin for all of the school (and the Internet) to see. After Naomi has her ejected from the bash, Holly returns with the dean, who not only shuts down the party, but gets Naomi kicked off the Greek Council (thanks to the strippers Holly ordered to close out the show). It's not a total loss for Naomi; though, Austin eventually sees her video love note and plants a big kiss on her.
Liam lets his pretty face go public. Thanks to his commercial and ab-tastic new campaign, Liam is essentially fighting off the ladies left and right. Despite his new recognition, he rejects an offer from his agent to put his face on a billboard, claiming that he doesn't want to end up like Adrianna (ouch). Money rules all in the end though, and Liam signs the contract and gets the motorcycle that he's been eying. Now that his mug is all over America, does this mean his bar-keeping days are over?
Patrick tries to control Annie. In week two of Annie's creepy new relationship, Patrick shows his arrogance by doing things like ordering dinner for her and making comments about her clothing. When he tries to convince her to skip Naomi's masquerade to hang out with him, Annie puts her foot down and asks that he stop treating her like a prostitute. To make it up to her, he comes to the masquerade dressed as a man in a barrel (that's rich person code for hobo), and promises not to use money to win her over anymore. I don't trust this guy for a second; not only is he totally skeevy, but he and Annie have zero chemistry together. Next, please!
There's also the issue of Ivy and her new photography teacher, though I'd be bummed if she cheats on Raj — they're just too cute together to let some hipster get in the way. How did you feel about this week's episode?
Photo courtesy of The CW