90210 Recap "It's High Time"
90210 "It's High Time": Most Scandalous Moments
If the title "It's High Time" didn't already tip you off, Ivy's pot use is a major focus of this week's 90210 (ah, those clever puns). After Dixon rejects the surfer girl, she tokes up to quell her hurt ego. But she's not the only one trying to mask her feelings; Naomi attempts to suppress her attraction to Max by hiring a bunch of male students to pose for a calendar. Hey, whatever works.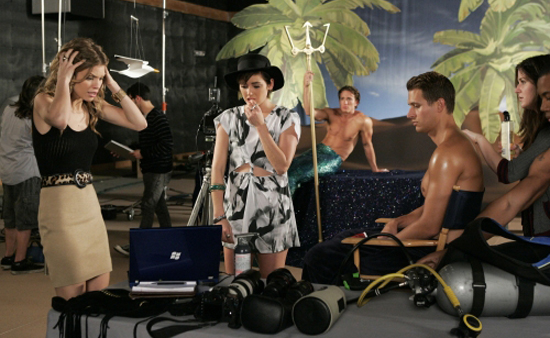 But clearly no one is more in need of therapy than Emily. The crazy cousin stoops to new lows to ruin Annie, and I'd say it's no longer just a case of revenge. Emily has a major screw loose, and Annie's life is quickly unraveling. Ready to recap all of the drama? Just
.
Ivy's hooked on weed. When did the show become an after school special? First, Ivy starts smoking to relax for surfing, and now she's getting high on a regular basis. When Ivy asks Dixon out on a date and he turns her down, she gets baked to make herself feel better. Laurel catches her zoning out in front of cartoons and asks her to see a therapist. So Ivy goes to a doctor — except he's doctor who prescribes marijuana. So Ivy heads to a tie-dye-filled shop and buys some pot-laced treats before meeting a fellow weed enthusiast named Raj. They hit it off and hit the town high via the subway. The subway, Ivy? You're so alternative.
Annie gets suspended from school. Can someone explain to me why no one believes Annie? The poor girl is desperately trying to get Liam and her friends to take her side in her battle against Emily, but no one listens to her pleas. When Naomi, Silver, and Adrianna call Annie out for saying they're shallow, she tries to defend herself to no avail. Then Emily destroys her own dressing room to make it look like Annie's handiwork, and Annie gets booted from her internship. She jumps Emily in the school cafeteria to wring the psycho's neck, but the angry outburst only does more damage, and Annie receives three days suspension. Make it stop! Hopefully Liam finally sees the real Emily at least. When he returns home, Emily's there, waiting half-naked in one of his shirts. I think breaking and entering dignifies her as fit for the loony bin, but will Liam agree? My hope is he'll realize what Annie's been trying to tell him all along, so he can help take Emily down and fast.
The boys take Teddy to a gay club. When Navid, Dixon, and Liam don't invite Teddy to watch the girls' volleyball game with them, Teddy takes it personally. He confides in Silver that he's worried about losing his friends, so she confronts the guys about making Teddy feel included. The guys take her words to heart, perhaps a little too much. They bring Teddy along on a night out at the local gay club, which doesn't exactly make Teddy feel more comfortable. At least they're trying.
Naomi kisses Max! Naomi does everything she possibly can to get her mind off her crush on Max. When she's wait-listed for her dream college, she decides to "kill two birds with one stone": make a charity calendar (looks great on applications!) and feature the hottest, musclebound guys in school. She rounds up the candidates for a photo shoot at Shirazi Studios, but when body oil ruins her laptop — and all of the pictures on it — she has to call Max for backup. He works his geek magic on the computer and saves the day. To show her gratitude, Naomi runs after her crush and plants a kiss on him. But how's this for a twist: Max tells her she's not his type. Well, we know Naomi loves a challenge!
Adrianna realizes that Silver is Navid's mystery woman. Adrianna gets a call from her reality producers saying that her show isn't interesting enough without her footage with Navid. Distraught, she once again vows to find out who Navid is hiding, so Silver asks Navid to agree to take part in the show, in order to get Adrianna off their trail. He gives in, but when the pilot is ready to view, Adrianna notices something interesting in the opening credits: Silver's wearing the earring that matches the one she found. Uh-oh. Now that the truth is out, I'm dying to see Adrianna's next move. Do you think she'll sit on the discovery and make Silver sweat in the meantime or blow up right away?
What did you think of the episode? Do you love Emily's drama, or are you so over it? Do Naomi and Max make a cute couple? Weigh in below, or check out the 90210 Superfans group in the community!
Photo courtesy of The CW