90210 Recap, "Let the Games Begin"
90210 "Let the Games Begin": Most Scandalous Moments
The Greek war is very much alive and well at CU, and on this week's episode of 90210, Naomi makes a power play for control of the Greek Council. The fighting between her and Holly is just as dirty as ever, getting more personal as the ladies go for the jugular (translation: they get exes involved). Meanwhile, Liam and Annie are battling money troubles, while Dixon's fighting for control of his concentration.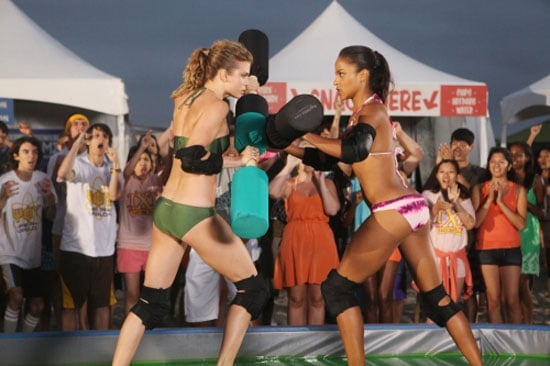 It's a fun, silly episode that's packed with plenty of bikini shots, the return of a major character, and one particularly salacious commercial starring Liam. Let's break it all down when you keep reading.
Austin and Naomi get it on. Naomi uses some sexy underwear to try to coax Austin into helping her train for the Greek games (is it just me or has AnnaLynne McCord been half naked more than usual this season?). Their little banter goes one step further this time, giving way to an animal-style hookup. Naomi seems pretty pleased about the situation, until Holly spots Naomi and Austin making out, and freaks out. Austin admits that he was just using Naomi to get under Holly's skin, but that is what Naomi wanted, right?
Holly calls Max to get back at Naomi. The Greek games start to heat up with a Gladiator-style faceoff between Naomi and Holly. Just when it seems that Naomi has the upper hand, she spots Max in the crowd, courtesy of a phone call from Holly. Naomi's shaken, but one conversation with Max later, and the two are back together. There's some trouble in paradise though — Austin still wants her, and Naomi can't seem to control her bad girl urges. I've always been a big proponent of the beauty and the geek, but now they seem boring by comparison to Naomi and her cowboy. Which guy do you like better for Naomi?
Dixon's addiction gets more serious. Dixon is elated when Navid uses some of his dirty money to buy his friend some time in the studio, but he can't find his inspiration. When the studio exec suggests that Dixon doesn't have the focus he needs, Dixon knows just where to find it — with the CU math geeks, of course. Despite constant complaints about his money troubles, he throws down 15 bucks a pop for some ADHD medication. Am I the only one who's tired of this story line? We've already seen drug abuse and the aspiring singer plot lines from Adrianna, and the whole thing feels a bit stale.
Annie gets kicked out of her sorority. Well, that was fast. After Holly leaks the letter she found in Annie's room, Annie seeks revenge by throwing the Greek games and making way for Naomi to win. Holly immediately kicks Annie to the curb, which means Annie can't get the Kappa scholarship she's had her eye on. Suddenly the idea of being a paid escort becomes a lot more attractive to her.
Surprise! Jim is back from the dead. Adrianna's ho-hum life as a waitress in an empty bar gets a little interesting when she meets a handsome stranger on the beach. Though he seems friendly at first, Ade understandably gets the creeps when he starts asking personal questions about her relationship with Liam — and panics even more when the dude starts getting lurky outside the bar after closing. Turns out he's not a stalker after all, but Jane's long lost dead husband. Something tells me he's not going to be happy to learn that his wife has been shacking up with his former friend, but it seems like the whole Jane story line is just an obstacle before Liam and Adrianna get together. (Despite what Ade says, no brother and sister have sexual tension like these two.)
How did you feel about this week's episode? Were you excited to see Max return? Do you think the war between Holly and Naomi is over? Sound off in the comments!
Photo courtesy of The CW