90210 Recap "Multiple Choices"
90210 "Multiple Choices": Most Scandalous Moments
It never fails that just when I'm about to do another eye roll at 90210, it somehow ropes me back in, and this week is no exception. Between a storyline with Dixon's gambling (so over it already) and Teddy and Silver debating about college, I thought this episode was going to be a real snooze. Then, about halfway through, things start to pick up. The reason: real teenage drama.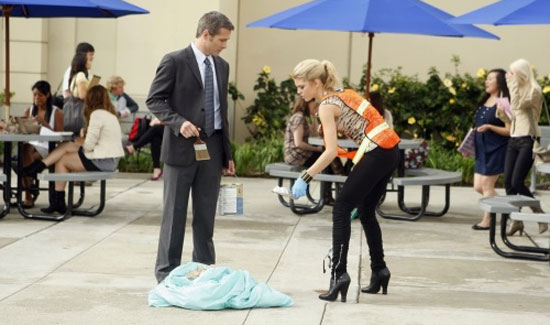 I'm not talking about sex and drugs like the kids from West Beverly are usually accustomed to, but rather the sort of run-of-the-mill issues that come along with being, say 17. Things like crushing on your best friend's boyfriend or having a seriously hateful stepfather or a sister who makes your life miserable. By the end, I actually felt for the students in a genuine, "man, high school is rough" kind of way (and Regina Spektor's "Eet" playing the background was a nice plus). Let's recap the highlights and scandalous surprises when you
.
Dixon owes $6K in gambling debt — and gets in serious trouble for it. When Dixon runs a covert card game (in a storage room?), troublemaker Mark shows up and puts him in the hole. Instead of forking over the $6K, Mark asks Dixon to steal the school's key from Harry. He and his friends want to steal the SAT, but when Dixon says they're not there, the boys destroy the school halls with graffiti. Harry screens the security tape and grounds Dixon, but he doesn't reveal the tape's contents to anyone else because he doesn't want to get his son in trouble. Only thing is, when Mark finds out about the cover up, he's all too thrilled — now, he has blackmail.
Debbie tells Harry about her kiss with Kai. She blurts it out when Harry's being a jerk, and tells him they need to go to counseling. She also says that she stopped the kiss, because she felt like she had to — not because she wanted to. Wow. The worst part is that Annie overhears, but with Dixon dealing with his gambling problems, she has no one at home to confide in. So, she turns to Liam.
Annie wants Liam. Bad. He's become her regular knight in shining armor, especially with this drama with her parents. She's so upset by Debbie and Harry that she actually jumps in a nearby fountain as a way to act out (really?!) and pulls Liam in. As he warms her up afterward, they exchange longing looks. So cliche, but I totally fell for it. Then, Annie breaks up the moment by saying he should go back to Naomi. He does just that, even though you can tell he doesn't love her anymore. At this point, I say screw Naomi, and let's get these two to get together. Annie was a stand-up girl by not moving in on Liam when she had the chance.

Teddy never told his dad about Silver. Teddy tells Silver that he's not planning on going to college just yet because he wants to pursue professional tennis. They get into a tiff over it, but Silver ultimately decides to support him by showing up at his match (and even learning a few sports terms). Teddy seems thrown off by her arrival. Why? When Silver goes over to Teddy's dear old dad to introduce herself at the game, he says he had no clue Teddy had a girlfriend! She's understandably miffed and leaves the tournament.
Jen is back and ready to make Naomi's life hell. Things seem to be on the up and up for Naomi — she clears her conscience to the entire school cafeteria, Mr. Cannon says thank you, even Liam takes her back. Oh, and she's like, so ready for the SATs. Then Jen shows up, and not only is she living in town again but now she owns the beach club. Karma is a b*tch, indeed.
Liam steals Jeffrey's coin collection with plans to move out. Finn is back in the picture, and tells Liam that he wants to open a bait shop. So, when Jeffrey threatens Liam's boat space with plans for turning it into a gym, Liam knows he has to move out stat. As added incentive, Jeffrey mentions that Colleen will be in Switzerland soon for a spa week, meaning he and Liam will be together...alone. To get money fast, Liam steals a few coins (worth $10K!) from Jeffrey and brings them to Finn to start his store — with the plan to bunk with Finn himself, so he can leave Jeffrey behind.

What'd you think of the episode? Are you ready for Jen to leave for good? Want Annie and Liam to hook up? Chime in below, or click on over to the 90210 Superfans group in the Buzz Community.

Photos courtesy of The CW