90210 Recap, "Party Politics"
90210 "Party Politics": Most Scandalous Moments
Naomi and her sorority sisters bring new meaning to the term dirty politics on this week's 90210, hosting a "Strip to Vote" party that had more than one character shedding their clothes during the episode. Meanwhile, Annie continues to explore escorting, and Silver lands a new job but reconsiders her relationship with Navid.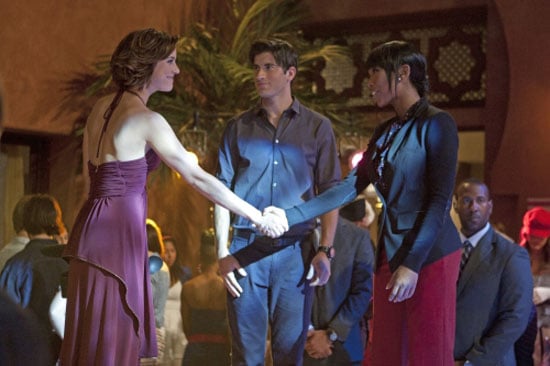 To find out who found themselves in their skivvies and why Silver and Navid's relationship is in trouble, just keep reading.
Teddy's back in Beverly Hills. After a few months of traveling in Europe for a tennis tournament that included making time for Summer loving with a new beau in Barcelona, Teddy's found his way back to the 90210 zip code. His Barcelona boyfriend, Shane, has also serendipitously ended up in the neighborhood working for congressional candidate Brandy Marissa Harris-Young, who just so happens to be running against Teddy's conservative uncle. Shane gives Teddy a hard time for supporting his uncle, who is against gay marriage, but Teddy, who never heard back from his father after coming out to him, is reluctant to sever ties with the only family he has left.
Jim punches Liam. Jim presents his alive-and-well self to Liam and Jane, who strangely only seem moderately surprised to see him back from the dead. When Adrianna spills the beans about how long he's been around, Liam confronts Jim and the two end up brawling in front of Jane, who gets knocked over during the fight and is rushed to the hospital. Jim and Liam have a weird bro moment in the hospital waiting room but end up apologizing to one another. In the end, Jim forgives Liam, claiming that it's OK he slept with his wife, because he was, after all, looking after Jane while she was pregnant with his baby.
Annie drags Leila along on her escorting gig. Say what you will about Annie and her new after-school job, but you can't call her a bad friend. She helps Silver and Navid in their desperate need to hook up by agreeing to babysit Leila, despite the fact that she has an escorting gig on the same night. There begins Annie's misadventures in babysitting, which include preventing Leila from participating in drinking, smoking, and skinny dipping. To make matters worse, Leila figures out Annie's secret, and though she promises not to tell anyone, I don't trust her one bit. The girl faked her own kidnapping — how has she not been shipped off to Sweden yet?
The cowboy tries to corral Naomi. Max and Naomi may be an item again, but that doesn't mean Austin is backing off. He volunteers to help her sorority throw a party to get people to register to vote, suggesting a a racy "Strip to Vote" theme, but it's he and Naomi who end up in their underwear when they're locked in the back of a hot van. Austin confesses it kills him to see Naomi with Max, and the two nearly kiss until Max interrupts the moment by throwing open the doors of the van. Between that moment and Naomi's sex dream, it's pretty clear that her subconscious already knows what she's unwilling to admit to herself.
Silver and Navid take a break. After Silver discovers a stash of cash in her closet, she confronts Navid about it, who tells her about the illegal car ring his uncle has been running at Shirazi Studios. His refusal to go to the cops is a dealbreaker for Silver, who doesn't seem to care that he'll be implicated in the crime if he reports the ring and decides to move out. It seemed a little harsh to me, but then again, Silver could probably still hear that idealized messages of fighting for worthy causes from her new boss ringing in her ears.
What did you think of tonight's episode? Do you think Silver was too hard on Navid? Do you think Teddy's uncle is up to no good? Tell us in the comments!
Photo courtesy of CW