90210 Recap the Prom Before the Storm
90210 "The Prom Before the Storm": Most Scandalous Moments
It's prom night on 90210, which mean's it's Naomi Clark's time to shine. Unfortunately her new love Max may have royally messed things up with his queen. Their drama is small potatoes compared to the tangled web that is Silver, Adrianna, and Navid's love triangle. With graduation around the corner, will that trio figure this mess out?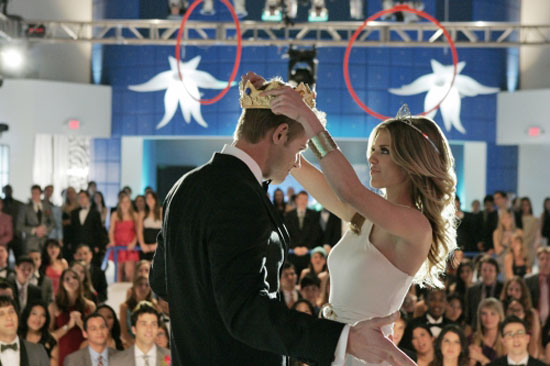 College is on the brain for Annie and Dixon, while Ivy and Raj are looking toward even bigger life decisions in the wake of bad news from his doctor. Prom has a bizarre future theme, thanks to Silver's manic episode, but it all ends up in good fun and Dixon may have a new admirer in prom committee head Harper. Let's take a look at the night's most scandalous moments, just
.
Did they or didn't they? Adrianna kicks off the episode by going full psycho, waking up cuddled up to Navid, and telling him that he professed his love for her and kissed her while blackout drunk the night before. Navid isn't sure whether or not to believe it, but Silver surprisingly doesn't even question it when Adrianna tells her what allegedly happened. Didn't Silver just think that Adrianna slipped in placebo pills, sending her back to the hospital? Now Silver trusts Ade more than Navid? These three need to figure out a way to end this drama.
Speech, speech, speech! Naomi, of course, has a whole speech planned when she wins prom queen. Teddy plays it more humble as he's crowned King, but Naomi's golden moment is ruined when her teacher accuses her of cheating on her final paper. Naomi springs into defensive mode, but apparently the (ridiculously unprofessional) teacher might have been onto something. Max admits that he made some edits to her paper before she handed it in. Uh oh and trouble in paradise for our new favorite 90210 couple.
Raj and Ivy face the music. Raj gets some bad news from his doctor and you know what that means! Time to get drunk at Ivy's prom and suggest a threesome with a cocktail waitress. Ivy isn't scared off by his antics, which only brings the two closer together. The episode ends with Raj popping the question on the beach. So much for graduation excitement, now there's a wedding to plan!
Marla's last gift to Annie. Annie sells Marla's necklace to pay for her and Dixon's college tuition, but turns out she didn't need to. Marla has left her entire estate to Annie, even after it was revealed that the actress has a daughter. There may be drama to come on that front, but for now it looks like Annie's off to Carnegie Mellon and Dixon's ready to enroll at Pepperdine.
.
So, were you surprised that Marla left her estate to Annie? Do you think there's drama to come with Marla's daughter? Will Naomi graduate and, more importantly, mend things with Max? And how about that engagement? Let's discuss in comments!
Photo courtesy of The CW