90210 Recap "Revenge of the Nerd"
90210 "Revenge of the Nerd": Most Scandalous Moments
The students of West Beverly get a taste of the Hollywood biz on this week's 90210. Adrianna's reality TV show is in full swing, so cameras are following her around to catch her every move — even if it takes multiple takes (anyone else think about The Hills?). Navid and Dixon are enjoying the perks of the entertainment industry as well: they get to meet Nelly!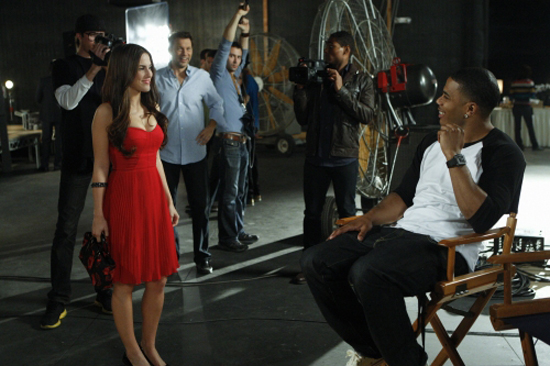 But even in the midst of the glitz and glamour, there's still plenty of drama rearing its ugly head as several confrontations come to the forefront. Let's recap the night's biggest showdowns and shockers when you
.
Navid opens up Shirazi Studios 2.0. Navid gets the bright idea to clear his family name by starting his own production business. He gets Dixon on board, who of course comes up with the idea to produce music videos so he can rub elbows with famous artists. They visit a record label, spot a famous music producer (it's the guy from City Guys!), and soon they're booking Nelly as their first famous client (you know, because that would totally happen in real life). It's smooth sailing at the shoot — until Adrianna shows up with her reality cameras. To make her TV pilot more interesting, she approaches Nelly and gets booted from the set. Nelly's flustered by Adrianna's desperate attempt, but not to worry, because Dixon's massive stash of candy corn saves the day (Nelly really likes candy corn).
Navid admits to cheating on Adrianna. When Navid's trying to get Adrianna off set, he hits her where it really hurts: he admits to cheating on her. Even though he doesn't give Silver away, clearly it's only a matter of time before Adrianna discovers the truth. Now she's determined to sniff out the "skank" and bring her to justice. Well, that should at least spice up her reality show!
Emily finally shows her devious side to Annie's face. After scheming to get Annie to leave play rehearsal on an errand, Emily asks Liam to "run lines" with her, which basically means she can drape herself all over the guy and call it "acting." Annie walks into her dressing room, sees them together, and blows up. Emily plays innocent at first (even Liam believes her act), but when the two girls are alone in the bathroom later, the real Emily reveals herself. She tells Annie that she basically wants revenge, since Annie said such bad things about her to Dixon and Debbie. From the sound of it, Emily won't stop until Annie's life is completely miserable. Ugh, I don't know how much more I can take of her.
Naomi goes after Guru Sona to get her money back. With a bullhorn in tow, Naomi decides to take Guru Sona down right as she's celebrating the ground-breaking ceremony for her new land (which she paid for with Naomi's trust fund). Naomi gets in her car to embark on her mission, but right as she's about to drive away, her new lab partner at school, Max (Desperate Housewives's Josh Zuckerman), hops in the passenger's seat, intent on picking up soil samples for their joint project. Since he won't leave, Naomi brings him along. When they arrive on the scene, the Guru continues to pretend like nothing happened, until Max swoops in to the rescue! The science geek spots an endangered owl on the land, which means the Guru can't build on it, and the sale of the land is voided. Naomi's so happy that she hugs the guy, but wait, what is this? Could Naomi actually have feelings for the nerd?!
Teddy meets a new guy! When Teddy skips class after receiving a few derogatory remarks from his fellow classmates, Silver steps in to help him relieve some stress. Her remedy: hitting tennis balls off the school a la season two. No sooner is Teddy practicing his forehand and venting about Ian, then wham — Teddy actually hits someone! The victim is Marco, a cute soccer player who happens to be gay as well. Marco writes his number down for Teddy on the tennis ball (cheesy, but kind of adorable). I guess this means Ian is out of the picture for good.
What do you think of Teddy and Naomi's new love interests? Are you fed up with Emily yet? Sound off below or check out the 90210 Superfans group in the community!
Photo courtesy of The CW