90210 Recap "Rush Hour"
90210 "Rush Hour": Most Scandalous Moments
It's pledge week on 90210, and that means Naomi and Annie perform all sorts of mortifying tasks to join the sisters of the most coveted sorority on campus. Naomi faces harder challenges than her friend, but gives it the ol' college try in an effort to climb the social ladder she's managed to fall so far off of in her first few days at school.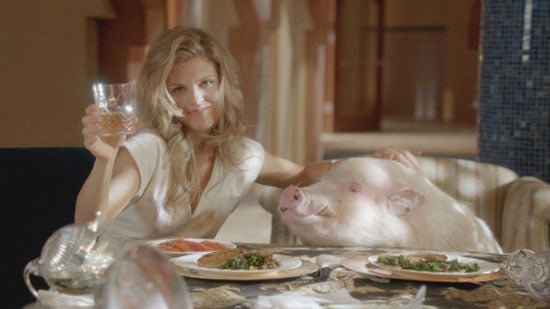 Out in the real world, a mysterious woman from Liam's past turns up in Beverly Hills, and Navid and Silver turn to Adrianna for help. To find out why and what else happened this week, just keep reading.
Naomi has a candlelit dinner with a pig. Naomi tries to recover from her status as the most hated woman on the CU campus by pledging the school's most popular sorority, which requires her to complete three humiliating tasks. She revels in the first challenge — walking through campus in her underwear — turning the quad into a catwalk, but doesn't fare so well at the others, which leave her disheveled after dining with a pig, and drenched in Gatorade by the football team. Her efforts are all in vain, though; the president of the sorority only had her complete the tasks as payback for Naomi having purchased the house the sisters wanted. Now instead of pledging the sorority, Naomi is pledging vengeance, and I can't wait to see what she has in store.
Details of Liam's boating adventure begin to emerge. Liam decides to keep the bar he bought on a drunken impulse to escape the memory of his Summer months. The past catches up with him, though, when Jane, the wife of his now deceased captain at sea, lands in Beverly Hills. Did I mention that the captain died during a boating shift that he covered for Liam? Talk about drama in the high seas. To make matters even more complicated, Liam tells Jane he was falling for her over the Summer and kisses her. Didn't he just propose to Annie last week?
Navid's little sister fakes her own kidnapping. Leila sends Navid a video claiming she's been kidnapped and that her abductors want $50,000. Silver is skeptical, but Navid lashes out at her, telling her that even Adrianna — the girl who everyone hates for medication tampering, song stealing and various other offenses — is more sympathetic. I thought it was a pretty low blow, but Silver decides to stand by her agitated man and turns to her nemesis for help finding Leila. Adrianna displays some pretty impressive investigative skills, and it turns out Leila fabricated the story all along in an effort to earn some cash to run away with her tattooed, older boyfriend. Navid ends up taking a loan from his sketchy uncle to pay the boyfriend to leave Leila alone, but I have a feeling his uncle is going to use the money as leverage to get back in on Shirazi Studios.
Annie's college crush drops a bombshell. Annie continues to flirt with upperclassman Jeremy, meeting him for coffee, kissing him, and revealing details about her relationship with Marla. It turns out Jeremy is related to Annie's deceased benefactor, and he uses the information Annie provides against her, claiming she's responsible for Marla's death for having failed to tell anyone that Marla was suicidal.
Dixon starts popping pills. Dixon may have passed up on college, but he pulls an all-nighter anyway, in an attempt to prep for a big meeting with an East Coast music producer. When his energy starts to lag, his friendly cowboy roommate Austin shows some Southern hospitality by offering him his ADD pills as an energy boost. Dixon refuses, claiming he's high on enthusiasm but when the sun starts to rise, he reaches for the prescription bottle. Judging from the six or so energy drinks that were sitting on Dixon's desk, I'm guessing he's going to have trouble controlling his intake of the medication.
What did you think of tonight's episode? Are you digging Liam's backstory and his potential new love interest, or would you rather see him with Annie? Do you think Dixon's heading down a dangerous path? Tell us in the comments!
Photo courtesy of The CW