90210 Recap "A Thousand Words"
90210 "A Thousand Words": Most Scandalous Moments
These days, it seems no political campaign is complete without a scandal, and on this week's 90210, Teddy unwillingly fills that role in his conservative uncle's race for Congress. There are plenty of other issues, of course, including Annie taking a shocking new turn with her relationship with Patrick.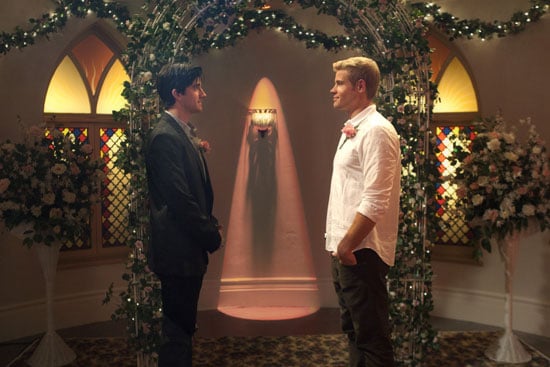 Meanwhile, Dixon tries to sort out his life by dealing with his addiction and feelings for Adrianna head on, and Ivy and Raj, receive good news. Let's break it all down when you
.
Teddy's

wedding

video makes the local news. When Silver's footage of Teddy's wedding is leaked to the media, he instantly blames his new beau Shane. Little does he know it was Silver's boss Marissa who leaked the tape after Silver accidentally emailed it to her. Marissa has no problem admitting that she was the source of the leak after Silver confronts her, even making a case that she did it for the greater good. Her twisted logic is no help to Silver, who can't get Teddy to forgive her after she tells him the truth.
Liam lands a new modeling account. Is it me, or is Liam a little bit of a diva this week? He turns down every modeling gig his agency offers him until he learns he can drive a race car as part of a new cologne campaign. He's all smiles until he throws a Hollywood-style hissy fit when he learns he's not actually allowed to get behind the wheel of the car, or participate in any dangerous activities that might damage his pretty little mug. In another diva move, he takes his anger out on his agent's assistant who trails him to make sure he doesn't get into trouble, until he ditches her to sneak into the racetrack with Teddy. When the police catch the pair, Liam breaks his leg in an attempt to flee. Newly injured, he can't complete the cologne campaign, which costs his agency $200,000. He has to take on a new campaign to work off the debt, and it's one that's sure to deflate his expanding ego: romance novel cover model.
Ivy's headed to New Guinea. Ivy's photography teacher Nick encourages her to enter CU's photography showcase competition, which offers a first place prize of a trip to New Guinea with a professional photographer. Ivy's visibly uncomfortable when Nick first breaks the news of the contest, but I'm guessing that's got more to do with the oh-so-obvious sexual tension between her and her teacher than the prospect of leaving Raj while he's undergoing cancer treatment. Ivy enters the contest and wins, only to find out that the photographer set to travel with the winner is none other than Nick. Shortly after the showcase, Raj receives news that he's cancer-free, which opens the door for Ivy to travel to New Guinea. But does it also mean that a less guilt-ridden Ivy might get into trouble while she's abroad with Nick?
Dixon heads to rehab. Dixon agrees to head to a cushy, resort-like rehab center in Santa Barbara, but not before trying to secure a relationship with Adrianna. He tells her he has genuine feelings for her and that he hopes she didn't only sleep with him as a means of distracting him from drugs in Vegas. It's a cute, bold admission, but Adrianna fears he's still using and that the drugs are making him say things he doesn't mean. Though she admits she has feelings for him, she decides to put their relationship on hold until he's through with his treatment.
Annie's officially a prostitute. Dixon's rehab comes with a hefty price tag of $40,000, and Annie takes it upon herself to put together the $10,000 deposit. She tries to play nice with sugar daddy Patrick, but ends up confronting him about catching him cheating in Vegas. Patrick shows no remorse, telling Annie she's "special to him," but that he has different women in different cities. When Annie fails to raise the $10,000 on her own by auctioning her stuff online, she goes back to Patrick, essentially telling him she's fine with exchanging sex for money. The next morning she wakes up to Patrick leaving a $10,000 check on the bed.
What did you think of tonight's episode? Were you shocked by Annie's decision to go back to Patrick? Do you want to see Adrianna and Dixon together? Tell us what you think in the comments!
Photo courtesy of The CW