90210 Recap "Vegas, Maybe?"
90210 "Vegas, Maybe?": Most Scandalous Moments
The 90210 gang is far from Beverly Hills this week when they take an impromptu trip to Vegas, but drama always seems to find them. Naomi spends most of her time trying to get Austin to pay attention to her, while Dixon sweats his way from casino to casino as he tries to resist the temptation to do drugs.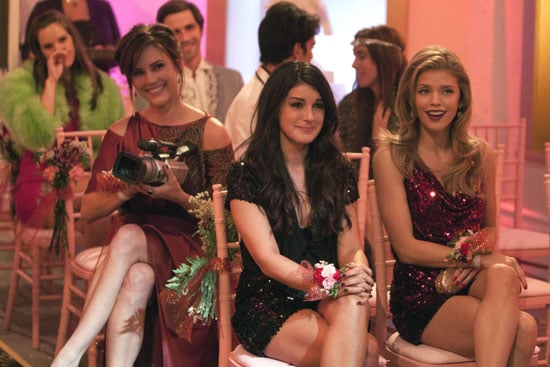 Elsewhere on the strip, one gal catches her beau in the arms of another woman, and someone elopes! But what happens in Vegas doesn't stay in Vegas because I've got all the episode's juiciest details when you keep reading.
Navid passes his uncle's test. When Navid's uncle learns he's traveling to Vegas, he entrusts him with a very important package that he must deliver to a client. Everyone makes fun of Navid for spending the entire trip guarding his "murse," (would it have killed him to throw it in a backpack?), but Navid takes his task very seriously, believing the package could contain the evidence necessary to put his uncle behind bars. Instead, the package contains socks and is only meant to test Navid's loyalty to his uncle. Even worse, the undercover detective Navid is working with is forced to make out with him to prevent their cover from being blown when Silver walks in on their meeting. Now that Silver thinks Navid's moved on, will she do the same?
Naomi follows Austin across state lines. Naomi's finally roped her cowboy, but it looks like the two won't be riding off into the sunset anytime soon. When Austin fails to invite Naomi to his birthday trip to Vegas, she handles the situation as only Naomi would: with a Sin City ambush. Once there, she sneaks her way into the birthday party hosted by Austin's dad, country legend Judd Ridge (Billy Ray Cyrus), and only then does she realize why Austin's been hesitant about including her in the festivities. Turns out Austin's dad isn't quite the Southern gentleman his son is, spending most of his time ogling Naomi and putting down his the birthday boy. Naomi retaliates by telling him off, which only angers Austin, who storms off.
Teddy gets hitched. When Teddy runs into his Barcelona boy toy Shane again, the pair are willing to look past their political differences and give dating a shot. Silver's there to help speed things along, inviting Shane on the group's trip, and even booking them a

wedding

in a Vegas chapel. Though the ceremony is merely symbolic — Silver only wants to give Teddy a taste of the "normal" life he fears he will never have — the wedding footage Silver captures and accidentally sends to her boss could nevertheless prove disastrous for Teddy's conservative uncle, who is running for congress.
Dixon hooks up with Adrianna! Like Liam, I'd totally forgotten about Dixon's gambling problem (remember his stint betting on basketball games?), but it's his newfound addiction to ADHD medication that poses the real problem for him in Vegas. Though Dixon tries hard to control himself, all bets are off when Vinny Guadganino (who's far from his home on Jersey Shore) introduces him to a drug-dispensing concierge at a poker room bar. Dixon returns to his hotel room with a stash of drugs and is on the verge of consuming them when Adrianna bursts through the door and distracts him by falling into bed with him.
Annie reconsiders her relationship with Patrick. Annie's thrilled when she discovers Patrick's in Vegas for a business conference, but she's crushed when she spots him with another woman. Things only get worse for Annie when she finds out her brother's been hiding a drug addiction. She vows to get Dixon to rehab, but at what cost? Just as soon as she's decided to break things off with Patrick, she's accepting his call and telling him she's missed him. Will she start taking Patrick's money — and essentially become a prostitute — to help her brother out?
What did you think of this week's episode? I'm itching for Navid and Silver to get back together again, so I'm bummed about his fake hookup. Would you like to see the two of them back together? Are you glad Adrianna and Dixon finally got together? Chime in with your thoughts in the comments!
Photo courtesy of The CW