90210 Recap Women on the Verge
90210 "Women on the Verge": Most Scandalous Moments
It's one week 'til the prom episode of 90210, but there was enough action in this week's "Women on the Verge" to ensure it wasn't filler. The title of the episode may imply that the ladies of West Beverly High are headed toward trouble, but the men are having just as many issues in their complicated relationships. I'm still very much loving the Naomi and Max storyline, though just like every high school show before it, 90210 pretends like we don't all know how the college admissions process works.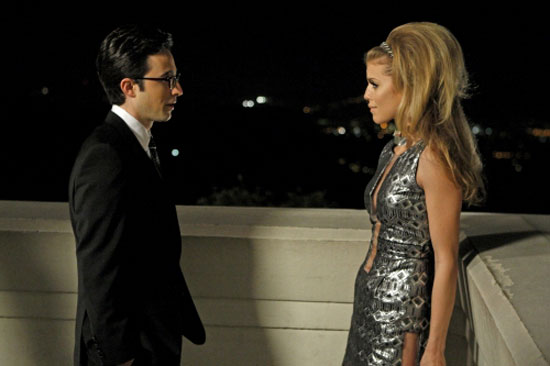 Silver is headed toward a breakdown from the get-go, with Adrianna waiting in the wings to prey on a vulnerable Navid. Plus, there's a very unwelcome familiar face back in the picture. Ready to break it down? Just
.
Silver melts down. After harassing her alumni interviewer with manic late night phone calls, Silver doesn't get into NYU and has an angry outburst at Navid when he asks if she's still on her meds. Navid finally goes to the one person who has been through this before: Dixon. Dixon and Navid's setup to get Silver into the hospital seems sort of underhanded and Navid accepts Adrianna's appearance with way too much trust. Considering all they've been though, would Navid really confide in Adrianna and want to have a consoling drink with her? This part had me yelling at the TV.
Naomi the romantic? Someone is head-over-heels. With Naomi into CU and Max headed to MIT, she wants to plan their long distance relationship and he's not so sure that's a good idea. Naomi is falling hard for her sexy nerd, so much so that she's applying last minute to Boston University. When he finds that out, Max is ready to change his plans and attend Cal Tech instead. I'm all for these two together, but the scenes from next week imply their honeymoon period may be over.
Annie's discovery. Last week Annie stumbled on Marla's assisted suicide informational pamphlets, and instead of letting it go decided to confront her new mentor/employer. Marla passes it off as research, though she also opens up to Annie about her struggle with Alzheimer's. Annie convinces Marla to attend a screening of one of her old movies, and lo and behold the former star still has tons of fans. Even so, it's not enough to stop Marla from taking some sort of drastic action. We don't see the scene Annie comes across the following day, though it's implied that Marla has gone through with her plans.
She's baaaaaaaack! Jen is back to see her baby Jacques and Ryan isn't so pleased. Jen says she has changed thanks to therapy, though she's not a "natural" like Ryan. Jen has some unkind words about Ryan's relationship with Debbie, which is nothing new. Jen momentarily wanted to bring Jacques to Paris, but in the end she settled simply to be the one in charge of his sartorial choices, naturally.
Marco's big deception. Teddy's new man seems to be hiding something from him and in the end it's just that he's not as wealthy as the rest of his West Bev classmates. Marco and Teddy share a tender moment, and it all ends in happy times for the couple.
Did anything this episode shock you, or did you see all these twists and turns coming? Are you as excited about West Beverly prom as we are?
Photo courtesy of The CW