90210 Review "2021 Vision"
90210 "2021 Vision": Most Scandalous Moments
Many a plot is thickening on this week's episode of 90210 as the gang looks ahead to their 10-year high school reunion. We find out the ulterior motive behind Annie's new internship (hint: it's not because of her coffee ordering skills), Naomi falls deeper into depression, and Teddy makes his first foray into the gay storyline we've heard so much about over the Summer.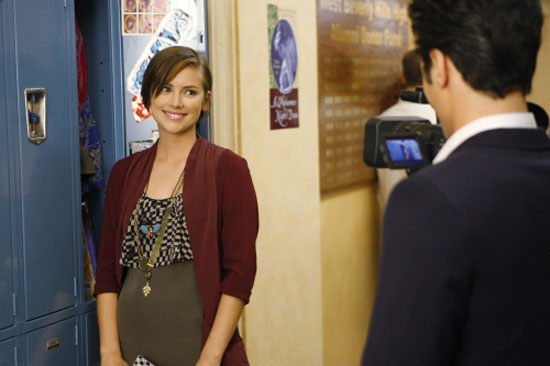 Meanwhile, Mr. Cannon continues to make a name for himself as the slimiest teacher in the world, Laurel is still inexplicably referring to Adrianna as "babe," and Dixon and Ivy continue to make us question why they're still together. Ready to break down the most scandalous moments? Just read more.
Silver finally gets a clue. It took her long enough, but Silver finally realizes that Mr. Cannon is bad news. It all starts when Naomi is being haunted by flashbacks of her rape, which is keeping her up all night. When she shows up for her video yearbook spot with her "Kate Spade eyes" (whatever that means), Naomi goes on a depressing rant about how bad things happen to people — clearly not the bright-eyed, confident Naomi we're used to. When Silver gets to editing Naomi's piece, she notices the discrepancy. But it isn't until she recognizes a line taken straight from Mr. Cannon's movie that she realizes that perhaps Mr. Cannon is the one who's been lying. Oh, and it should be noted that while Silver is having her epiphany, Mr. Cannon is anxiously waiting for her to take a sip from the roofie coolata he had prepared. Redefining creepy, one episode at a time.
Teddy shacks up with a dude. We were all wondering how Teddy's sexual experimentation was going to come about, and now we have our answer: with an unhealthy dose of alcohol. Teddy wakes up after what seems to be a particularly rough night, finding a lovey dovey message on his desk — and proceeds to vomit. Speaking of vomit, he then tries to patch things up with Silver by using his video yearbook entry as a cheesy, desperate plea to get her back. She accepts his apology, but at the end of the episode a fellow male student approaches Teddy about their romp earlier that week. It's really not Silver's week, eh?
Oscar blabs to Dixon about Ivy's virginity. In his continued reign of manipulation, Oscar seizes a nice moment during gym class and tells Dixon that Ivy still has her V-card. Dixon freaks out (which seems kind of douchey at first) and calls Ivy out on the information. As it turns out, Dixon's anger is about a larger trust issue: Ivy lied about giving it up at surf camp, and Dixon feels betrayed because of all the secrets (translation: his gambling phase) he told Ivy. Ivy makes it up to him by revealing her biggest secret of all: that she feels rejected by her father and she's feeling vulnerable about it. They're all good by the end of the episode, but across town, Oscar reveals that Laurel is "the bitch that ruined his father's life." Uh oh.
Adrianna gets called out for her song-stealin' ways. Despite her protests, Laurel convinces Adrianna to sing one of her original new stolen songs at Javier's memorial service. Like any classy memorial service, someone in the audience captures her riveting performance on camera and puts it on YouTube. Adrianna is overjoyed at her return to stardom until Javier's uncle confronts her with an old demo of Javier's featuring the same song. She's totally busted, but maybe now she can go back to regular high school drama? I miss Navid.
Annie gets an interesting proposal from her boss. This week Annie's drama with Liam and bro are put on the back burner for her internship. She's performing well (perhaps a little too well) and her boss is taking notice. It's not just her work that's eye-catching though: her boss also starts making awkward comments about Annie's figure and her ability to eat whatever she wants (no kidding, she's a teenager). You can't blame Annie for misreading her signals, but it turns out that her boss and husband want to use one of Annie's eggs for an artificial insemination. The going rate is $20,000, so how long before Dixon or Debbie suddenly fall into unexpected financial trouble and need a quick solution?
Overall, I thought it was another solid episode for the third season. Did you miss Liam and Navid? Do you think Annie will donate her egg? Sound off in the comments and be sure to stop by the 90210 Superfans group in the Buzz community.