90210 Season Four Interview With Michael Steger
90210's Michael Steger on Navid's New Business and Who's Cramping His Onscreen Sex Life
Now that Summer is over, some of the 90210 teens are heading back to school, while others, like Michael Steger's character, Navid Shirazi, are facing real-world problems — or at least the type of real-world problems one might face in Beverly Hills. Steger filled us in on how Navid is dealing with running his father's business, the little sister who is posing a big problem for Navid and Silver's sex life, and why some days on the set he feels like he has a backstage pass to a concert. He also shares some scoop on how Adrianna's faring after her suicide attempt last season, and what else you can expect from the season four premiere.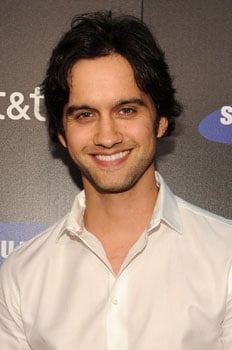 BuzzSugar: Can you tell us what's changed in Navid's life in the upcoming season?
Michael Steger: Last year Navid dealt with the child pornography surrounding my dad's past business ventures that got my father into trouble, so my entire family fled to Switzerland. Coming into season four Navid's without his family. He's forced to run a family business all alone and so far he's reinvented the entire Shirazi Studios. It went from being a porn studio to a legitimate studio, where they do films, commercials, and music videos. It's a big deal.
He ends up moving in with Silver. There are a lot of sacrifices that he has to make in order to run the business. He also ends up working with Silver. They both have an office in the Shirazi production office, so there's a lot of fun stuff that goes on there. And there's one family member of Navid's that decides not to get on the plane to Switzerland and wants to stay in Beverly Hills so she can finish her last year of high school, and that's my younger sister, Leila. She pretty much begs Navid to stay and Navid brings it to Silver and it's the last thing he wants to do because he wants to be alone with Silver. There's really a lot of fun comedic moments between Silver and Leila because all Navid and Silver are thinking about are sex, but they can't have sex because the sister is always there.
BuzzSugar: So Leila's kind of a third wheel in Navid and Silver's new love den?
Michael Steger: Oh, yeah. She's causing a lot of problems because she's full of life and she's always wanting to be out and she forces Navid and Silver to be parents and they're nowhere near that level of maturity.
To see what Steger had to say about new hookups and having musical acts on the set, just read more.
Buzz: There was a lot of drama with Adrianna last season. Can we expect her to continue to stir up trouble?
MS: Yeah, there are a lot of problems that will be presented in episode two and three because our world in Beverly Hills is very small and so characters are going to be dealing with each other. Navid finds himself in a very awkward situation where he's confronted by Ade and it sets the tone for how Ade's going to be treated for the season because she's looked at with a lot of disdain by a lot of people and not many people want to be around her. Ade is on the path of redemption, but she's not quite getting there because her friends have totally cut her off — rightfully so. But, yeah, there's a number of problems, that I can't necessarily say right now, but my sister is the start.
Buzz: Along with Navid, all the other characters are also forging out on their own without their parents. Has that changed the dynamic? What can we expect now that they've graduated?
MS: Liam has a big business venture that will be revealed. Dixon is kind of moving into the music world and he's heavily focused on that. So that guys have pretty much put college to the side and are very much about going out into the real world and getting jobs. I think it's gonna be more interesting as far as storytelling because they're going to deal with the real life stresses of the world and get their careers going.
Buzz: A lot of shows have trouble making the transition from high school to college. Were you at all worried about that transition?
MS: Yeah, I thought at first it was going to be, "Oh, everybody's gonna go to college" and that's not going to be believable because not everybody goes to college. It was nice to hear that not every single one of us was going to go to school and they're going to attack different stories. Three of the characters are going to college and three are holding off. I think it's more realistic this way because a lot of people are self-taught and start businesses right out of high school. I think those are fascinating stories, especially with people that have parents that have owned businesses, or people with a lot of money to fund what they want.
Buzz: How did you react when you found out that Trevor Donovan wouldn't be returning?
MS: Trevor's such a nice guy and so much fun to work with. As actors, every closed door is another door opened. This show's going to end for all of us sooner or later and it's only going to help us get other jobs. He's going to be missed definitely. I never like to see any cast members going.
Buzz: We've heard that Cobra Starship is going to be on this season. Do you guys get to enjoy the performances?
MS: Yeah, we really get to enjoy the performances. I have one scene today and I'm going to go see Cobra Starship perform and I'm really excited. Yeah, it really is like a concert. It's like being behind the stage. We get to talk to them and everything.
Buzz: Can we expect to see any new hookups among the gang this year? Any surprises in that area?
MS: A lot. You break up, you get back together. You break up, you get back together. New hookups? Yeah, there's a ton. I can't give anything away but Navid and Silver are good for the most part.
Buzz: What were you excited about the most in this season?
MS: I'm excited about the amount of obstacles that exist for a lot of the characters. I think it's a heightened reality where these kids are going to have to deal with so many different things. Like my character's dealing with family, my sister, and a business at the same time. Looking back and looking at that is kind of like, "Wow, how is he doing that. That's a lot." There's comedy, there's drama, and there's a lot of interesting twists that I think are really going to entertain the fans.
Buzz: Is there anywhere else you would like to see Navid's character go?
MS: I'm so focused on where he is now that I haven't really thought about where I'd like to see him go next. They keep throwing me curve balls, so when I think they're going to do something with the character, they go in another direction, so it's always interesting to get the script every week.