90210 "Smoked Turkey" Recap
90210 "Smoked Turkey": Most Scandalous Moments
Thanksgiving brings unseasonably warm weather on this week's 90210, but the temperature isn't the only thing heating up in Beverly Hills. Tensions rise between Ivy and Raj, as well as Naomi and Austin, with only one couple managing to work out their problems by the episode's end.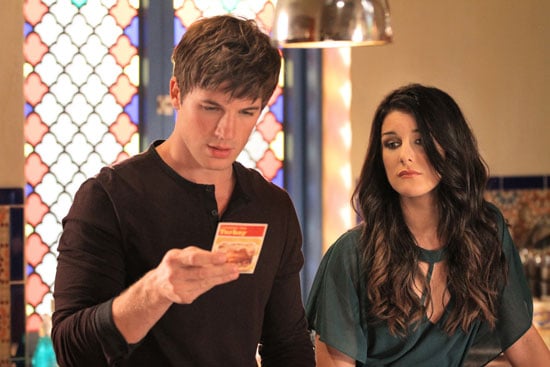 Silver's reconciliation with Navid seems less likely when she makes a move on an older man, and Liam's reunion with his mother goes terribly wrong. There's plenty to dish over in the aftermath of the gang's Thanksgiving feast, so let's break it all down when you keep reading.
Liam's estranged mom returns. Now that he's loaded with male model money, Liam tries to create the Thanksgiving he never had as a child, which means he spends much of the episode doting over a homemade feast and waiting on the delivery of his centerpiece. To run his dream holiday, Liam's estranged mother Colleen, who chose Liam's stepfather over her own son, shows up at the door and claims she made a mistake. It's no mistake that Colleen's arrival coincides with her son having his face plastered on billboards, and it's not long before Liam discovers she's only after his money. He cuts her a check and simultaneously writes her off, saying she can have his money but she can never have him.
Silver's hot for teacher. When Silver comes across a CU professor trolling the campus food drive for single ladies (um, creepy much?), she decides he's the perfect guy to help Annie get over Patrick and decides to invite him to Liam's Thanksgiving dinner. She introduces him to Annie, who clues Silver in to the fact that the professor is more interested in Silver than any of her friends. When the academic tries to leave, Silver impulsively kisses him, deciding she's ready to move on after her breakup with Navid.
Austin needs more than sex. Naomi's dumbfounded when Austin resists her attempts to seduce him for "reunion sex." When Annie and Ivy tell her it's probably because she emasculates him by demanding sex, she decides to play the role of the damsel in distress by pretending she doesn't know how to ride a horse. Austin fails to buy her act and storms off in anger right before Naomi manages to get her leg wedged in a rock 127 Hours-style. Austin eventually comes to the rescue and reveals that he needs more than a physical relationship, especially since his parents have recently decided to get divorced. With the gates of communication open, the two decide to celebrate . . . by promptly jumping into bed together.
Dixon comes clean. Dixon gets to leave rehab for the holiday, but everyone except Annie and Adrianna think he's merely taking a break from a whirlwind music tour. When he lusts after Adrianna, she rejects him and tells him he can never really recover if he's still lying. Whether or not he actually believes her or is just desperate to get her into bed again after a few lonely weeks at rehab, he listens to her and announces the fact that he's a drug addict at dinner. Does this mean we can expect to see the pair together soon or will Adrianna find another way to stall?
Raj breaks up with Ivy. Ivy and Raj begin to clash now that he's cancer-free. Ivy's excited about her photo internship in New Guinea, but Raj tries to get her to postpone the trip to spend the next few years with him at medical school in Baltimore. When he later makes plans for the two of them to spend Thanksgiving at his parents' house without asking, the two get into a heated argument, and Raj points out the ugly fact that they probably only got married because they thought he was dying. He uses the same reasoning when he breaks up with her, though he really decides to walk away because he's found out his cancer is back, and he doesn't want to hold Ivy back anymore.
How did you feel about this week's episode? Did you think of Raj's decision to break up with Ivy was selfless or unfair? Are you digging Silver's new man or hoping she gets back together with Navid soon? Share your thoughts in the comments!
Photo courtesy of The CW