ABC 2011 Pilots Including Good Christian Belles, Charlie's Angels, Once Upon a Time, Pan Am, Last Man Standing, Scandal, Revenge
ABC Pilots: Get the Scoop on the New Shows
Upfronts madness has officially set in, and the networks have been going crazy making their announcements about which shows are getting the ax and which pilots are a go for next season. ABC has pulled the plug on Brothers & Sisters and a few more, but what's coming next Fall? I've got the scoop on the new crop, which includes plenty of familiar faces like Kristin Chenoweth, Tim Allen, and more, so start getting to know ABC's new lineup now!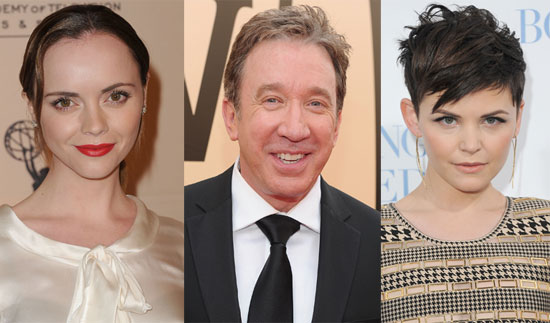 COMEDY
Suburgatory: A family sitcom set in — wait for it — the suburbs. A father (Dodgeball's Alan Tudyk) uproots his daughter from Manhattan for a more provincial life in the 'burbs.
Work It: Follows two guys who dress up like women for better jobs after they're laid off.
Man Up: Focuses on a group of guys coming to terms with being middle-aged men.
Apt. 23: Krysten Ritter plays an NYC party girl who clashes with her new good-girl roommate from the Midwest. James Van Der Beek also stars as himself.
Last Man Standing: Tim Allen returns to TV as a man struggling to hang on to his traditional values in today's world. Nancy Travis will costar as his wife.
To check out the new dramas, just read more.
DRAMA
Good Christian Belles: Based on the novel Good Christian Bitches, Leslie Bibb (Popular) plays a recent divorcee who returns to her Dallas hometown in hopes of some Southern comfort. Kristin Chenoweth will costar as one of the villainous housewives who stands in her way.
Charlie's Angels: Minka Kelly, Annie Ilonzeh, and Rachael Taylor star as the titular private investigators in this remake of the classic '70s series.
Once Upon a Time: Jennifer Morrison stars as a woman who moves to a small town in Maine where fairy tales seem to be coming true. Ginnifer Goodwin also stars as Snow White.

Pan Am

: Christina Ricci headlines this '60s-centric drama about pilots and flight attendants working for Pan Am Airlines.
Revenge: A young woman (Brothers & Sisters's Emily Van Camp) heads to the Hamptons to avenge the destruction of her family in this drama loosely based on The Count of Monte Cristo.
Scandal: The latest from Grey's Anatomy creator Shonda Rhimes revolves around Kerry Washington as a crisis management consultant. Lost's Henry Ian Cusick will also star.
The River: Follows a group of people looking for a missing adventurer in the Amazon.