ABC Bachelor Pad Premiere Predictions
6 Predictions For Tonight's Premiere of Bachelor Pad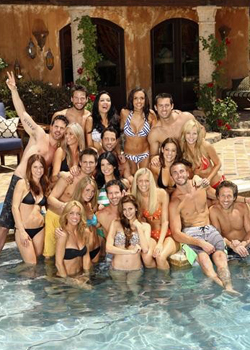 Welcome to the latest addition to The Bachelor franchise: Bachelor Pad. Premiering tonight, the series brings back 19 former contestants from the reality show to compete in challenges for the chance to win money — and dates. Not only will the men and women be living under one roof, but they'll even be sleeping in the same room (oh, brother). Melissa Rycroft joins Bachelor regular Chris Harrison to host, and she promises plenty of drama. Here's my early prognosis:
Most likely to hook up: Elizabeth and, well, anyone. She wouldn't let Jake Pavelka kiss her, but let's be serious: it was all just an act. There's no masking that this woman is a tease, and the Bachelor Pad promos make it look like she takes things a step further with Jillian's Jesse. Hi there, soapy tub makeout.
Most likely to actually find love: Tenley and Kiptyn. Nice looks, nice demeanor, and two very unusual names — it's practically kismet!
For the rest of my predictions and a preview video of tonight's debut, just
.
Biggest fight waiting to happen: Jonathan "The Weatherman" and Craig, aka "Dangerous." Expect these two to pick up right where they left off in Ali's Bachelorette season with cheap insults and a rousing round of play dress-up. Throw the easily angered David into the mix, and you have a powder keg waiting to blow.
Most likely to throw down one-liners: Natalie. If her strange (and often conceited) comments to Jason Mesnick are any indication, we can expect even more gems to come out of her mouth.
Most likely to burst into tears: Michelle. She sobbed her way through Jake's Bachelor season, so she'll have to toughen up if she expects to last in this competition.
Best chance of taking it all: Jessie. Judging by the promos, she's one of the only ones who doesn't appear to get tangled up in house drama. Plus, she's the same woman who outed Rozlyn Papa and Rated R, meaning she's not afraid to ruin someone's rep if she has to.
Photos copyright 2010 ABC, Inc.