ABC Premieres Legal Dramedy The Deep End, Jan. 21 at 8/7c
TV Tonight: The Deep End
With FlashForward on hiatus, ABC is taking the opportunity to premiere dramedy The Deep End tonight. The series centers around a group of fresh-out-of-school lawyers as they adapt to their new LA firm. I got a sneak peek of the show at the TCAs, and I'm ready to dive right in (ba-dum-dum).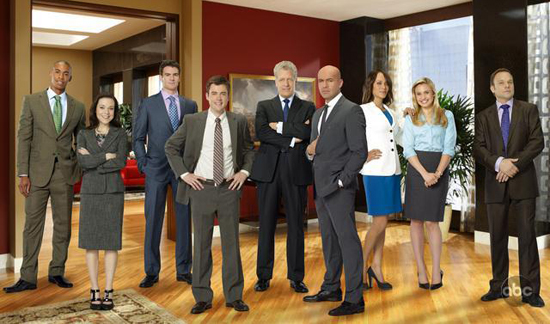 First off, several familiar actors are attached, including Tina Majorino, Rachelle Lefevre of Twilight fame, and Billy Zane (even though he made my skin crawl in Titanic, that should work to his benefit here as the managing partner/villain). But I'm also intrigued because the whole "rookies trying to make it" premise has endeared me to shows in the past (e.g., the newbie docs on Grey's Anatomy and Scrubs), and Deep End is already positioned to follow a similar formula.
My only hesitation: the show has several alpha male types with superiority complexes — let's hope they get a dose of humanity, too (plus some strong female characters who can do more than trade blouses in the office).
I'll be keeping an eye on the program to see how it fares, but are you going to tune in? Take a peek at this preview clip, and let me know your verdict when you
.
Photo copyright 2010 ABC, Inc.